Fire tragedies spark warning
Jan 06 2012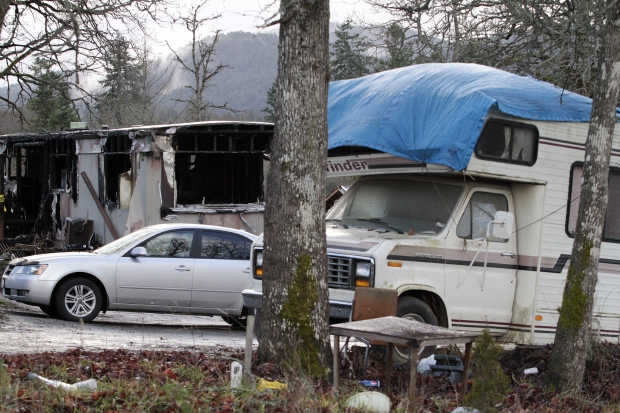 A blackened shell is all that remains of a mobile home after a fire on the Tsartlip First Nation reserve Dec. 29, 2011. The blaze claimed a 44-year-old man's life. The other seven residents were not in the home when the fire started.
Photograph by:
Lyle Stafford, Victoria Times Colonist, Jan. 5, 2011
A "calamitous" spate of fire deaths has prompted a safety warning from the Coroners Service and the Office of the Fire Commissioner about the need for vigilance when living in a trailer or mobile home.
From Dec. 29, 2011, to Jan. 2, seven people died in B.C. fires. Five of them were living in trailers or mobile homes. Two of the fires were on Vancouver Island.
Fatal fires in mobile homes occur 32 to 50 per cent more often than in typicl homes, the Office of the Fire Commissioner said, citing a U.S. Fire Administration study.
In mobile homes, the risk of fatal fires is higher because it's more difficult to escape, the fire commissioner office said in a statement.
Cramped quarters mean occupants are closer to the source of a fire, a second exit is not always accessible, mobile homes don't ventilate as well as other homes and are sometimes made of more flammable material.
On New Year's Day, a 20-year-old woman died in a 6 a.m. blaze in her trailer on the Cowichan reserve. The victim is believed to be Crystal Joe, but the coroner has yet to confirm the identity of the badly charred body.
On Dec. 29, Wilfred Joseph Henry Jr., 44, died after flames consumed a single-wide trailer on the Tsartlip First Nation reserve at Brentwood Bay.
Sidney-North Saanich RCMP said eight people were living in the trailer, but Henry was alone when the fire started.
The community will hold a funeral for Henry today and is struggling to find a home for the seven other residents of the trailer.
Fire investigators and RCMP are probing the causes of both fires.
On Dec. 20, 2011, on the Songhees First Nation reserve, a man was seriously injured when he was thrown from his trailer after an explosion. View Royal Fire investigators believe the man had dangerously rigged a propane tank so it was inside the small trailer. Firefighters said 28-year-old Arnold George likely would have died had he not been thrown from the trailer.
First Nations chiefs from the Tsartlip and Cowichan reserves said overcrowding forces people to live in trailers despite safety concerns.
"When families go out and do their own process in regards to buying trailers, they feel they're doing the best for themselves so they don't look at the hazards, they just feel they need something to live in," said Tsartlip Chief Wayne Morris.
It is not uncommon to see several trailers around homes on reserve land.
According to a 2002 report, Fire Losses in Canada, the most recent statistics available, the fire death rate was 3.7 per 100,000 people on reserves that year compared with one death per 100,000 in Canada as a whole.
Rick McCullough, president of Fire Prevention Canada, said while some reserves have set up volunteer fire departments, those that contract with a municipal fire department might not get the same fire prevention awareness or safety inspections as people living off reserves. "First Nations communities have been predominately at greater risk than the non-aboriginal community," McCullough said.
Fire-code inspections do not have to be conducted on mobile homes and recreational vehicles on reserve land, even if they are being used as permanent housing, according to Aboriginal Affairs and Northern Development Canada.
Federal rules say all housing projects that receive federal funding must comply with fire and building code standards, but regulations cover only structures with a permanent foundation.
That means permanent modular homes must meet codes, but there are no compulsory federal checks on temporary structures.
First Nations are responsible for managing their housing program and fire protection services, said spokesman Karl Freeborn.
Some bands train their own fire inspectors and bands can receive federal funding, through the Aboriginal Firefighters Association of Canada, to co-ordinate fire prevention and awareness.
"Regionally, in B.C, our department funds the First Nations' Emergency Services Society which provides emergency services to First Nation communities, including delivering fire safety and protection programs," Freeborn said.
Joe Thorne, Duncan councillor and member of the Cowichan Tribe, said the latest deaths highlight the longstanding issue of poor housing on First Nations reserves.
"This can't go on. It's like we're a Third World country in our own land," he said. "Too many things are taken for granted, like, 'They're OK now, they have a trailer.' There needs to be better education for fire prevention and people need to be educated on how to maintain a home or especially a trailer with propane tanks."
MOBILE-HOME FIRE RISKS
1 Fires in mobile homes are more difficult to escape.
2 Tight spaces put the occupant closer to fire source
3 A second exit is not always accessible.
4 These homes don't ventilate as well as other types
5 They can be made of more flammable material
6 No compulsory federal checks on reserve lands
For tips to reduce the risk of fire in mobile homes, go online to the Office of the Fire Commissioner's website at www.pssg.gov.bc.ca/ firecom/pubed/fpw.htm
kderosa@timescolonist.com
jlavoie@timescolonist.com
We thought you might also be interested in..