Jewish cemetery vigil aimed at putting vandalism attack to rest
Jan 06 2012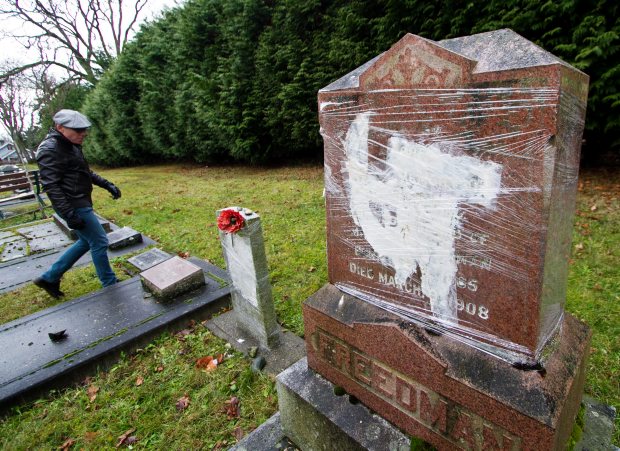 Rabbi Harry Brechner surveys the damage before it was cleaned up.
Photograph by:
Darren Stone, timescolonist.com
Desecrated headstones in Victoria's Jewish cemetery have been cleaned of racist graffiti left there last week and Rabbi Harry Brechner hopes that a vigil at the site will bring closure to the incident.
Five graves at the Emanu-El Jewish Cemetery, which dates back to the 1860s, were found Dec. 31 to have swastikas and a racial epithet painted on them.
Victoria police are investigating and treating the incident as a hate crime.
Brechner wrote an open letter, published in local media including the Times Colonist, inviting whoever did it to take responsibility. He also suggested the culprit help with the cleanup.
No one came forward, but the Congregation Emanu-El synagogue has received many messages of support from the public.
"Phone calls and emails have been flooding in daily," Brechner said. "It's been remarkable."
One man wanting to show his concern went to Congregation Emanu-El bearing gifts, Brechner said.
"He showed up with a box of chocolates and kosher pickles and wine at the synagogue."
Kind words have come from all over the region, including from colleagues of other faiths and local politicians
"I think the often-silent majority of people have spoken," Brechner said. "I know I feel really supported."
People seem to want to come together because of what happened, which has led to the organization of Sunday's vigil, Brechner said.
Letting the children in the Jewish community see such an event will help them realize that the damage done was an isolated occurrence, he said.
Saanich South NDP MLA Lana Popham will attend the vigil. She has previously visited the cemetery with one of her constituency assistants, who is Jewish, and learned about its historical and cultural significance, Popham said.
She called the damage "despicable."
Popham has mentioned the vigil on her website to help generate interest.
Other MLAs have done the same, she said.
"I hope they can get as many people there as possible to show that the hate is minimal and the love is a lot more."
The cemetery is located where Cedar Hill and Fernwood roads join, just off Hillside Avenue. The vigil starts at 1 p.m.
jwbell@timescolonist.com
We thought you might also be interested in..