Another cougar sighting in Saanich
Jan 06 2012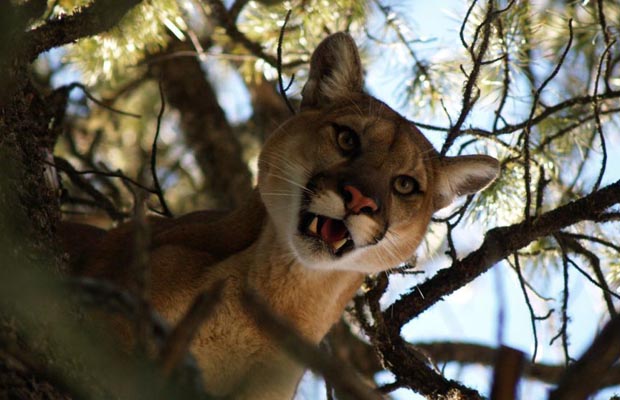 FILE PHOTO: Because of recent cougar sightings, police are warning residents in Saanich to take precautions.
Photograph by:
Submitted, PNG files
Yet another cougar sighting has been reported in Saanich, this one coming about 4 a.m. Friday in the Arbutus Road area of Saanich.
Saanich police Sgt. Dean Jantzen said there is a lot of potential prey there for cougars.
"We know there's big resident herd of deer in that area. That's likely what they're going after."
Jantzen said cougars are wide-ranging and it is not known if just one or a number of the animals have been involved in the recent sightings. At least three sightings were reported late Wednesday and early Thursday — one in Central Saanich, one on Blenkinsop Road and one on Quadra Street near McKenzie Avenue.
Sightings also came Tuesday night on Seamist Place in Cordova Bay and Wednesday morning on Battleford Avenue near Tillicum Road and the Trans-Canada Highway.
Safety guidelines from the Ministry of Environment
If you meet a cougar:
Never approach a cougar. Although cougars will normally avoid a confrontation, all cougars are unpredictable. Cougars feeding on a kill may be dangerous.Always give a cougar an avenue of escape.Stay calm. Talk to the cougar in a confident voice.Pick all children up off the ground immediately. Children frighten easily and their rapid movements may provoke an attack.Do not run. Try to back away from the cougar slowly. Sudden movement or flight may trigger an instinctive attack.Do not turn your back on the cougar. Face the cougar and remain upright.Do all you can to enlarge your image. Don't crouch down or try to hide. Pick up sticks or branches and wave them about.
If a cougar behaves aggressively:
Arm yourself with a large stick, throw rocks, speak loudly and firmly. Convince the cougar that you are a threat not prey.If a cougar attacks, fight back! Many people have survived cougar attacks by fighting back with anything, including rocks, sticks, bare fists, and fishing poles.
For a complete safety guide go to:
http://www.env.gov.bc.ca/wld/documents/cougsf.htm
We thought you might also be interested in..