Kids asked to suggest play equipment
Jan 07 2012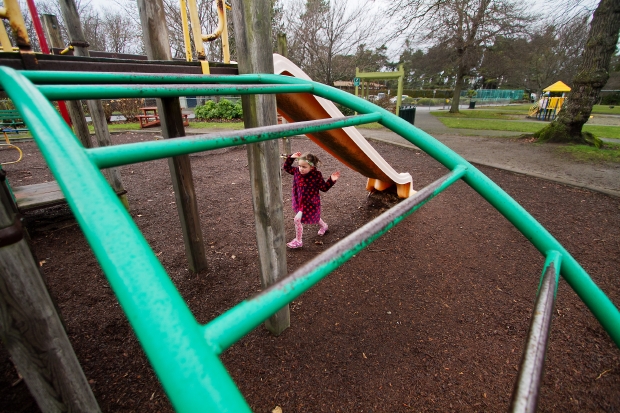 Four-year-old Lily Bailey explores the playground during a trip with her family to Beacon Hill Park Friday.
Photograph by:
Darren Stone, Victoria Times Colonist, Jan. 6, 2012
Children are being asked to bring their parents to a city-sponsored open house to show park planners what types of equipment they would like to see in a Beacon Hill Park playground.
The city hopes to make improvements to the park's playground at Cook Street and Nursery Road to, in part, help mark the city's 150th anniversary.
The plan is to upgrade the playground equipment installed in 1990 to meet national safety standards and to better meet the needs of the community.
It is hoped that equipment will be found that appeals to two age groups: from infant to five, and from five to 12, said Doug Demarzo, manager of parks planning and design.
"We're not sure exactly what the community wants. That's why we're going out. But we want the children to come in and give us an idea of what they are looking for because playground equipment has changed over the years," Demarzo said.
"We're also asking if they want some natural features that we design and do ourselves, rather than just your standard-type playground equipment.
"So we're looking to see if there's an opportunity for a variety of features."
The life expectancy for playground equipment is about 20 years, so the replacement is due.
Parents and children will be able to view displays, and place stickers next to favourite play equipment, complete a short survey, draw out their vision for the play area, meet park planners and suggest improvements.
The open house is being held Jan. 18, from 4 p.m. to 8 p.m., at the Victoria Lawn Bowling Club (off Nursery Road in Beacon Hill Park). Registration is not required.
Input will help inform an illustrated concept that will be presented to the community for feedback at an open house in February. The playground improvements are expected to be underway in the fall.
bcleverley@timescolonist.com
We thought you might also be interested in..