Rabbi at vigil for vandalized Jewish cemetery: 'This, all of us, this is hope'
Jan 09 2012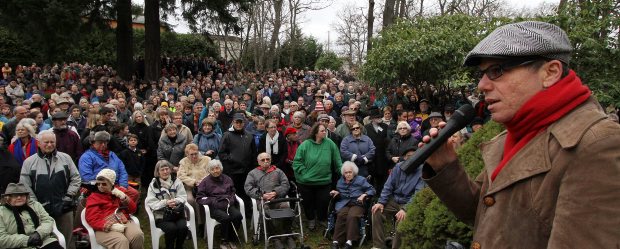 Rabbi Harry Brechner addresses the crowd during a vigil at the Jewish cemetery in Victoria. (Jan. 2012)
Photograph by:
Adrian Lam, timescolonist.com
Greater Victoria residents sent a strong message Sunday to the vandals who, last month, desecrated headstones in a Jewish cemetery with swastikas and hateful language.
Hate crimes against any person or group will not be tolerated, explained Rabbi Harry Brechner, and "all of us coming out here and standing together tells us that we will not be silent in the face of hate crime."
His comments incited a deep and sustained applause from a crowd estimated at more than 1,000, who showed up for the afternoon vigil at the historic Emanu-El Jewish Cemetery.
When prompted, about a dozen hands reached out above the heads in the crowd — each representing the leader of a variety of churches and synagogues. The size and diversity of the crowd — atheists also attended — took Brechner by surprise.
He told several stories about Holocaust survivors buried in the cemetery, including Carl Charles, who survived by putting on the jacket of a Nazi officer and riding a motorcycle from Austria to Prague to escape certain death.
"The idea of putting hate symbols near their graves is despicable and my hope was that that person can come forward, but you know what? All of us came forward," said Brechner. "This, all of us, this is hope."
Police are treating the graffiti as a hate crime and have been calling on residents to come forward with any information they might have.
Some visitors to the cemetery on Cedar Hill Road Sunday had strong opinions about the hateful desecration.
"It made me sick, it made me terribly sick," said Narda Nelson, who walked along with her daughter Liv as everyone slowly made their way off the property. "I felt it was important to come down here."
The vandalism upset many in the capital region's Jewish community. Rabbi Meir Kaplan, of Chabad of Vancouver Island, said there was no mistaking the intention.
"I thought this is clearly an expression of anti-Semites," he said. "It's amazing that the community came together in such a way. This is the most diverse gathering we've attended in a very long time, and that's a very clear message from the crowd as well."
Sid Fry grew up in the neighbourhood and attended Sunday school just across the street. He has become the caretaker of the cemetery and volunteered his time to clean up the headstones.
He spent five days getting them ready for the vigil. Removing marker ink from a marble monument was the most challenging because the ink had sunk deep into the pores.
Colour in the lettering on four other headstones came off along with the spray paint, but Fry will refinish them in the summer when they dry.
Wiping down the marble, he contemplated the hateful messages.
"Whoever did this, it backfired," he said looking up and gazing at the crowd.
The cemetery is located where Cedar Hill and Fernwood roads join, just off Hillside Avenue.
dspalding@timescolonist.comc
We thought you might also be interested in..