Deal between anesthesiologists and health authority ends lengthy pay dispute
Jan 10 2012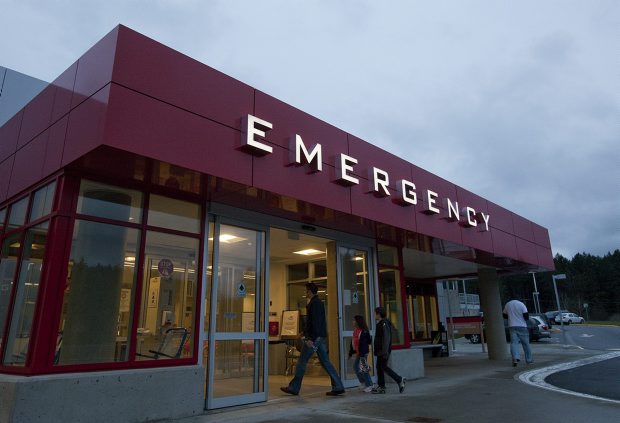 Victoria General Hospital
Photograph by:
Arnold Lim, The Times Colonist
An agreement has been reached between the Vancouver Island Health Authority and anesthesiologists at Victoria General Hospital, ending a lengthy and bitter pay dispute.
Victoria General's anesthesiologists have been involved for years in a standoff with the health authority for around-the-clock "dedicated obstetrical anesthesiology" services.
Both sides agreed on the need for the service, but not on how to get there and how much it would cost.
"We have always aspired to have one, but up until now have never been able to find a framework and now we have," said VIHA president Howard Waldner, in a phone interview Monday.
Anesthesiologists administer pain medication, or render a person unconscious, for medical procedures.
VIHA put a final offer on the table before Christmas. Some signatures are still required on the $1-million contract but the deal is done, Waldner said.
"We wanted to get out with the good news as soon as soon as humanly possible," he added.
The new service will be phased in starting in February, likely with the help of locums, with full implementation expected in summer, following recruitment of additional anesthesiologists, said Waldner.
"We are very confident in being able to hire the appropriate number of anesthesiologists to provide this great service," Waldner said. "VIHA is a very attractive place for people to come to work."
VIHA has already has "a number of prospective candidates," Waldner said.
The exact number of anesthesiologists who can be hired within the new agreement, as well as with the extra funding provided, "still needs to be worked out by them," Waldner said.
"The improved service will provide an increased number of dedicated hours of service for the 3,000 mothers who deliver their babies each year at VGH, and will pave the way for an exceptional program for women and their families," Waldner said.
The agreement will allow Victoria General's department of anesthesiology to deliver around-the-clock "dedicated" anesthesiology services to obstetrical patients and provide a dedicated pain service for in-patients — with a focus on epidural anesthesiology for mothers in labour.
At the height of the dispute, anesthesiologists suggested expectant mothers were at risk, and epidurals and C-sections were often delayed because the specialists were overworked, understaffed and in need of a dedicated unit for pregnancies, especially on the night shift when the one anesthesiologist on duty is busy with emergency room traumas.
Later, Waldner asked the College of Physicians and Surgeons to take disciplinary action against anesthesiologists at Victoria General for voicing their concerns about risks to pregnant women.
Dr. Craig Bosenberg, anesthesiology medical director and regional head of the department, said Monday the department looks forward to moving ahead with the new service quickly.
"We are extremely pleased to have reached an agreement on this very important service for mothers and their babies,' Bosenberg said, in a news release.
Health Minister Michael de Jong said in a statement Monday that the agreement is a direct result of the province's existing agreement with anesthesiologists and ongoing negotiations with the B.C. Medical Association "and is made possible by the recent allocation of $2.5 million in funding to create 24/7 obstetrical anesthesia services in all B.C.'s tertiary care maternity hospitals."
The pay rates for doctors and specialists are being negotiated in the Physician Master Agreement by the government and the B.C. Medical Association, which acts on behalf of the medical community.
That dispute is also nasty.
In December, B.C.'s anesthesiologists dug in their heels in a bitter pay dispute with the provincial government, threatening to withdraw elective service by April, despite the government offer of $2.5 million to help create dedicated teams of anesthesiologists for maternity wards in three B.C. hospitals, including Victoria General.
The B.C. Society of Anesthesiologists held a press conference in Vancouver in December to air long-held grievances about pay, recruitment, staffing shortages and patient safety that, it said, have been ignored for years by the government and its own professional group, the B.C. Medical Association.
B.C.'s health minister, at the time, attacked the threatened service withdrawal regarding elective surgeries, saying it is unprofessional for physicians to threaten to hold patients hostage to their demands over a contractual dispute that is essentially about money.
While the two disputes are separate, de Jong said Monday, the agreement between VIHA and Victoria General hospital is "a step in the right direction."
"We worked collaboratively with the B.C. Medical Association to identify funding from within the existing Physician Master Agreement, to allow for this agreement between VIHA and Victoria General Hospital's department of anesthesiologists," de Jong said.
"This reflects our continued commitment to work with physicians to solve issues that affect patient care," he said, in a statement.
Victoria General is the Island's hospital for specialized obstetrical services for high-risk mothers and babies, as well as being the site for regular obstetrical services for residents of southern Vancouver Island.
Dr. Gavin Sapsford, president of the Association of Victoria Anesthesiologists stated in a news release Monday the association welcomes the agreement.
ceharnett@timescolonist.com
We thought you might also be interested in..