Sooke family tries to cope with double loss
Jan 11 2012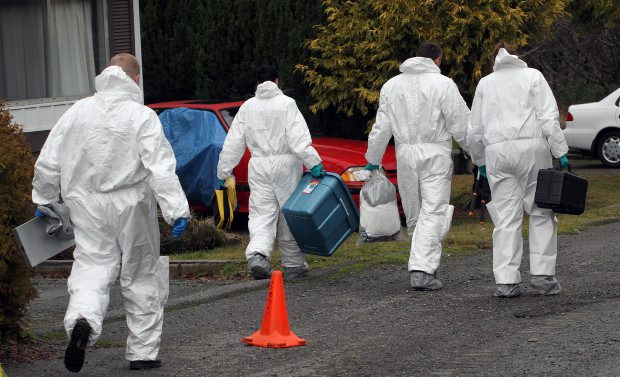 Members of the Vancouver Island Integrated Major Crime Unit, with assistance from Sooke RCMP conduct a homicide investigation at Park Village trailer park, at #2615 Otter Point Road in Sooke on January 9, 2012
Photograph by:
Adrian Lam, timescolonist.com
A Sooke man was mourning his ex-wife Tuesday while also grieving for their 21-year-old son who was in custody accused of her murder.
The son is charged with second-degree murder following his arrest Sunday after police found the body of the woman at their home at 20-2615 Otter Point Rd. in Sooke.
According to court records, the deceased was Sarah Nickerson, 53. Police will not disclose her name until she can be positively identified through an autopsy that had yet to be scheduled Tuesday.
Alex Conte, 21, appeared before a judge Monday in a telebail hearing.
He is due back in Victoria provincial court for an appearance by video on Thursday.
His stepmother, Adele McDonald, said Tuesday: "The family is going through a very hard time right now."
She and her partner, Tony Conte, Alex's father, have requested privacy and "the space to heal."
The family is trying to come to grips with Nickerson's death and Alex's murder charge.
"We're grieving for both of them," McDonald said. "We've lost our son too, he's in a very dark place."
Alex has a brother, Isaac, and a stepsister, Phaedra.
McDonald said the family had been inundated with requests to speak to detectives and counsellors.
"We're trying to get some positive healers here so we can heal our family and send some healing energy to our son," McDonald said.
"We're unable to think right now."
There is a publication ban on evidence and information that was submitted during the telebail hearing.
Neighbours said Nickerson was the victim of a brutal attack.
Jeanine Kroppmanns said the details of the death are "horrifying."
"It was a very brutal murder that happened," said Kroppmanns.
Police would not comment. "We will not be speaking about weapons that may or may not have been recovered," RCMP Cpl. Annie Linteau said in Vancouver Tuesday.
Kroppmanns said police were at Nickerson's home on Thanksgiving regarding a disturbance. Police confirmed that Alex is known to police.
Members of the Vancouver Island Integrated Major Crime Unit, assisted by Sooke RCMP, continued their investigation at the scene Tuesday.
The mobile home in Park Village trailer park remained behind police tape as forensic identification officers worked.
Sooke RCMP arrived at the home about 3:30 p.m. Sunday after receiving a call for help.
Police would not say who made the call.
Officers found the body of a woman and a 21-year-old man, who "was arrested at the scene for murder," police said.
Neighbours said Nickerson cared deeply for her son, but the young man was mentally ill and took recreational drugs.
Police occasionally attended the home, neighbours said.
Amian Vaughn-Evans, who lives next door to the family, said Monday that the man suffered from "mental-health issues and there were drug issues."
"She cared about her
son a great deal. She loved him lots," Vaughn-Evans said.
Nickerson was a good person who wanted to provide a safe place for her son to stay, Vaughn-Evans said. "She didn't deserve this."
Dale Birchard, 50, described Nickerson as a religious woman.
She had a heart of gold and gave unconditional love to her son, he said.
ceharnett@timescolonist.com
We thought you might also be interested in..