Management buys Black Ball Ferry Line
Jan 11 2012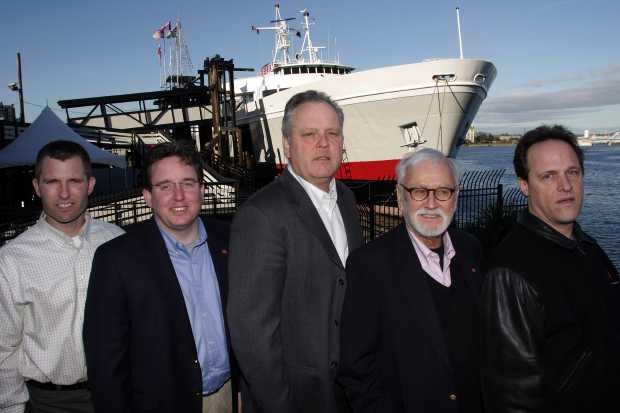 The new Coho ownership group are, from left to right: Rian Anderson, district manager; Ryan Malane, director of marketing; Ryan Burles, president; Capt. John Cox, CEO; and David Booth, senior vice-president of finance.
Photograph by:
Lyle Stafford, timescolonist.com
The executives at Black Ball Ferry Line who acquired the venerable link between Victoria and the Olympic Peninsula say it will be business as usual.
The 52-year-old company, which operates the MV Coho between Victoria and Port Angeles, has been purchased from the Oregon State University Foundation by the company's executive management team.
Black Ball had been bequeathed to the foundation by former owner Lois Acheson in 2004 as part of a $21-million gift of her estate to establish an endowment in OSU's college of veterinary medicine.
"The goal right now is to keep the course we have, the culture of the company intact and not try to change in too many respects," said president and COO Ryan Burles, one of the five new owners. "The trustees at Oregon State did a great thing to keep it within the employees and maintain the legacy. It was Mrs. Acheson's wish that the employees were taken care of."
Burles said while the OSU foundation had steered the company in the right direction and ensured it had a future, there was always some lingering uncertainty among employees.
"Now that management has purchased it, there is certainty for [employees], and also for the community," he said. "We all know we are here to stay and we want to continue the service as we know it."
It's also good for the Victoria tourism industry, which has faced a number of challenges — fallout from terrorism, SARS, passport problems and a high Canadian dollar, to name just a few — over the past decade.
"Anything that maintains the stability and long-term viability of that company is good news," said Tourism Victoria CEO Rob Gialloreto.
"It's a very important link. We live on an island, so all links are important, but the vehicular traffic taken back and forth on that ship is vital to Victoria and has been for 50 years."
Tourism industry expert Frank Bourree, principal with Chemistry Consulting, said the change in ownership could bring more Victoria focus to the company. "This brings some certainty to the area, and [Burles] and his team are quite good at what they do. I like to see it more local," he said.
"This is a great transportation vehicle for Victoria," he said, adding that the Coho brings a lot of Victoria's overnight visitors to the city.
The Coho can accommodate 1,000 passengers and 120 vehicles on any one sailing. According to a 2006 study, it ferries more than 400,000 passengers and 120,000 vehicles and brings $123.7 million into the Victoria economy annually.
The company now estimates the economic impact of the Coho to be closer to $160 million annually, accounting for about 60 per cent of total visitor entries to Victoria's Inner Harbour.
Details of the deal, which was closed last week, were not disclosed. Both the foundation and Black Ball's board of directors voted unanimously to support it.
Burles, who has been with the company in a variety of roles since 1981, said there are no hidden or outside investors other than the named team.
The company's executive management team includes Burles as president and COO; CEO Capt. John Cox; senior vice-president of finance David Booth; district manager Rian Anderson; and director of marketing Ryan Malane.
The company remains a U.S. corporation.
"My aunt, Lois Bates Acheson's wishes have been carried out exactly as she would have wanted to the mutual benefit of the Black Ball management group, the Oregon State University Foundation and the college of veterinary medicine," said Donna Lee Schoen, a trustee and board member with Black Ball Ferry Line.
"It was her intention that the Coho ferry would continue to provide long-term employment and continuing service for the Port Angeles and Victoria communities. This is a wonderful resolution for all the parties involved. She would be very happy with the outcome."
The company employs more than 120 people and operates terminals in both Victoria and Port Angeles.
aduffy@timescolonist.com
BLACK BALL FERRY TIME LINE
• 1816: Captain Charles H. Marshall founds the Black Ball Line, the first company to have regularly scheduled passenger sailings across the Atlantic. The company folds in 1878 when steamships become faster than the clipper ships.
• 1895: Charles Marshall's great nephew, Charles Peabody, resurrects the family ship company under the name Alaska Steamship Co.
• 1928: Peabody chooses the original Black Ball Line flag for his fleet, which operates ferries on Puget Sound under the trade name Black Ball Line.
• 1932: R.J. Acheson becomes traffic manager for Black Ball Line.
• 1936: Acheson purchases Black Ball Freight Service, a subsidiary of Black Ball Line.
• 1951: Peabody sells Black Ball Line to the Washington State Bridge and Toll Company. He retains five vessels, one destroyer escort, the rights to the Seattle-Victoria route and terminals in Seattle, Port Angeles and Victoria.
• 1951: Peabody creates Black Ball Ferries, Ltd., a Canadian company that provides passenger and vehicle ferry service along B.C.'s south coast. A decade later, in 1961, sells the company to the government. Black Ball's five ships are renamed and form part of the B.C. Ferries fleet.
• 1952: Acheson and his wife, Lois, organize a new subsidiary of Black Ball Freight Service, naming it Black Ball Transport, Inc. Acheson requests permission from Peabody to incorporate a new version of the famous Black Ball flag for his new company.
• 1959: Black Ball Transport builds an auto and passenger ferry, naming it the MV Coho, after the silver salmon found in Puget Sound and adjacent waters. At the time, it is the most expensive, privately funded ferry ever built in North America. Total cost: $3 million.
• Jan. 12, 1959: The Coho's keel is laid at the Puget Sound Bridge and Dry Dock in Seattle.
• Dec. 29, 1959: The Coho makes its first commercial sailing to Victoria.
• Aug. 29, 2004: Lois Acheson dies. The company is left in a trust, bequeathed to the Oregon State University Foundation.
• 2004: The Coho's original Cooper-Bessemer diesel engines are replaced with two General Motors Electro-Motive Division main propulsion engines.
• 2005: Online reservation system is added.
• 2007: Sales for Victoria and Port Angeles hotels and attractions are made available through the Black Ball Ferry Line website.
• 2009: Black Ball Ferry Line celebrates its Golden Anniversary, 50 years of service between Port Angeles and Victoria.
Source: Black Ball Ferry Line
We thought you might also be interested in..