Three hurt in two crashes
Jan 11 2012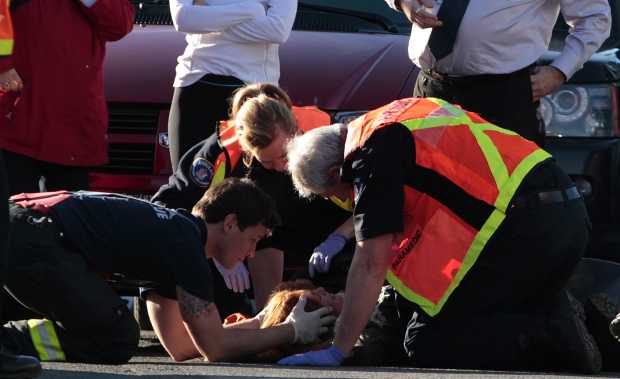 Paramedics attend to a pedestrian who was struck by a vehicle at Hillside Avenue and Cedar Hill Road Tuesday.
Photograph by:
Lyle Stafford, timescolonist.com
A woman was taken to hospital Tuesday after she was hit by a minivan as she crossed an intersection.
The woman, in her late 20s or early 30s, was crossing Hillside Avenue when the light changed green for traffic on Cedar Hill Road, Victoria police spokesman Const. Mike Russell said.
A dump truck in the left lane slowed to let the woman cross, but she was hit by the minivan in the right lane.
The accident happened at 1:10 p.m. B.C. Ambulance paramedics took the woman, who suffered leg injuries, to hospital.
Charges in connection with the accident are unlikely, Russell said.
Earlier, two cyclists were taken to hospital after they were in collision with a car. Around 12:20 p.m., an 82-year-old man driving south on Cook Street made a right-hand turn into the parking lot of the Mac's convenience store near Oliver Street, Russell said.
After he parked, a witness told him he had struck two cyclists, Russell said.
The male and female cyclists were taken to Victoria General Hospital. The man had a broken hand and the woman had unknown, but non-life-threatening injuries, Russell said.
Traffic officers were not sure if the driver's age or health contributed to the collision.
Police were talking to witnesses and will likely review the store's surveillance footage.
The man could face charges under the Motor Vehicle Act.
We thought you might also be interested in..