Eating disorder victims take message to minister
Jan 12 2012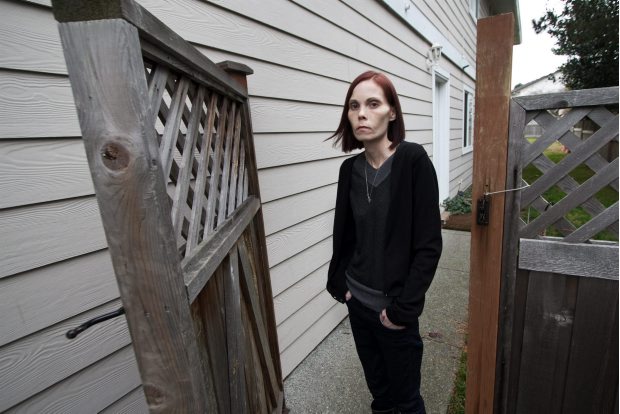 Tammy Johnson, 32, who has an eating disorder, weighs just 70 pounds. Over the past 12 years, she has been in and out of treatment, to be tube-fed back from the brink of death.
Photograph by:
Darren Stone, timescolonist.com
B.C. must increase funding and services for people with eating disorders or pay for treatment elsewhere, says a group representing anorexics that will meet the health minister today.
Kathryn Koehler, the head of Advocacy for Adults with Eating Disorders, plans to tell B.C. Health Minister Mike de Jong that there is a gap in services in the province, a lack of services in the community, and too little money for out of province care when B.C falls short.
"B.C. will never have everything people need with eating disorders — that's why you send people out of country or out of the province," Koehler said. "That's what Canada does."
Koehler, 41, of Vancouver, is seeking treatment in the United States. Tammy Johnson, 32, of Sooke, is seeking treatment at an eating disorder clinic at the University of Alberta Hospital in Edmonton. Both women weigh about 70 pounds.
The B.C. government is poised to finalize its eating disorder plan that will address gaps in the system.
There are just three publicly funded eating disorder residential programs for adults in B.C. St. Paul's Hospital in Vancouver has seven inpatient beds, Vancouver Coastal Health's Vista house has eight beds and Woodstone Residence, on Galiano Island, offers 20 beds for people aged 17 to 24.
Koehler has struggled with an eating disorder for almost 20 years.
She figures the onset of her condition was at 23. On two occasions in the 1990s, she attended residential care programs in the U.S. and as a result, for a few years, maintained a "functional" weight of 105 pounds and improved mental health — even finishing her university degree.
But she relapsed.
Eating disorders — which include anorexia nervosa, bulimia nervosa and binge eating — have the highest mortality rate of all mental illnesses, with 10 per cent to 20 per cent of victims dying from complications, according to the Canadian Mental Health Association.
Koehler's depression has led her to attempt suicide at least five times.
"That's a huge risk with anyone with eating disorders, because it's such hell in your head," Koehler said. "You feel like every second is something you have to get through, so you get tired and desperate."
The government maintains that anyone with an eating disorder "where there is an imminent threat to life" will receive the immediate support they require.
The government is reviewing the services available at the community level in all of the province's health authorities.
It is expected to direct health authorities in co-operation with doctors to expand community programs for people with eating disorders, create better transitions between inpatient and outpatient care, and try to better identify and treat the conditions as soon as possible.
More residential facilities are not expected to be part of the government's new plan.
Today, Johnson will spend her first full day as a patient at St. Paul's Hospital. She was admitted Wednesday.
"I'm continuing to decline every day, so I need to start somewhere," she said.
Johnson has had two heart attacks and organ failure, and her teeth are rotting. "I'm dying," she said.
St. Paul's is fabulous, said Johnson, who is grateful to be admitted when there are so few beds.
She has tried its programs for 11 years and "evidently they just don't have the care that I need," Johnson said.
Of the group's meeting with De Jong today, she said: "I just want him to recognize that there is so little help available and
that it needs to be rectified because people are dying."
ceharnett@timescolonist.com
We thought you might also be interested in..