'Huge' health gaps between B.C.'s north and south regions mapped out in UVic project
Jan 13 2012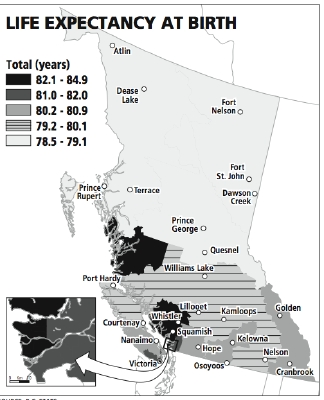 From the B.C. Atlas of Wellness
Photograph by:
B.C. Stats, Courtesy
A University of Victoria project that maps wellness indicators across B.C. highlights startling health gaps between people living in northern and southern parts of the province, lead researchers say.
The British Columbia Atlas of Wellness shows that northerners are more likely to smoke, eat unhealthy food and die sooner than their counterparts in Vancouver and Victoria.
"The differences are huge," Aleck Ostry, professor of geography, said.
"They're as big as the differences between Canada and Mexico."
One of the maps shows people in northwestern B.C. with a life expectancy at birth more than six years shorter than British Columbians in Richmond.
"That does show some major differences," said Leslie Foster, an adjunct professor of geography and child and youth care.
Foster, Ostry, Peter Keller and Brian McKee studied and mapped regional variations for 160 wellness indicators, including measures of nutrition, education, healthy pregnancies and emotional wellbeing. The authors recently published the second edition of the atlas online.
The project aims to illustrate geographic patterns and spark discussion about why some regions might be healthier than others and what can be done about it. The regions with poor scores can look to the best and examine what they are doing right.
"Are there accessible stores selling fresh fruits and vegetables? At school, are students learning how to be and stay healthy?
These are just some of the questions that can be asked," the atlas said.
While they leave the debate to others, the authors note that B.C. has a lot of work to do. "As demonstrated in this atlas, major geographical inequities remain such that not all regions have shared in provincial improvements in wellness."
Ostry said the atlas illustrates links between poverty and health. "The healthiest regions in the province really are in the Lower Mainland and Victoria," he said. "These are extremely healthy parts of the province and, again, this is because this is where the province's wealth and educational resources are stacked. The wealthier you are, usually the healthier you are."
The authors say health planners can use the maps to pinpoint regions that might benefit from additional government money.
Ostry noted, for example, that northern regions fare poorly on measures of food security, which includes access to fresh fruit and vegetables. B.C. moved several years ago to tackle the problem by subsidizing the transfer of fresh produce to the area, he said.
lkines@timescolonist.com
We thought you might also be interested in..