More than two dozen Victoria police search for brazen robber
Jan 13 2012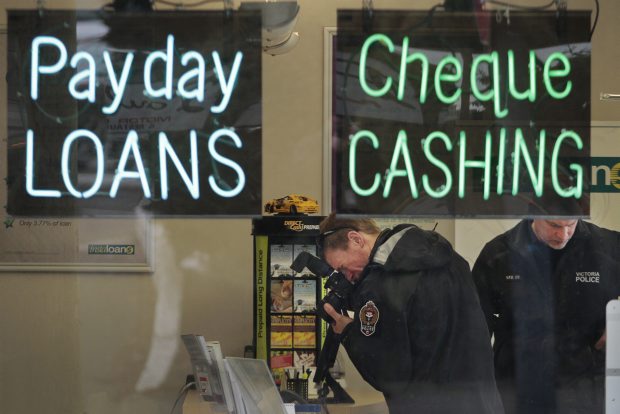 Victoria City Police investigate a robbery at Insta Loans in Victoria on Jan. 12, 2012.
Photograph by:
Lyle Stafford, timescolonist.com
Victoria police are looking for a brazen robber who held up a bank, an audio store and a cash store in the span of three hours Thursday, all while police were on his tail.
The man first hit the TD Bank at Douglas and Fort streets around 8:51 a.m.
Victoria police received a 9-1-1 call from inside the bank about a robbery in progress.
The man walked up to the teller, demanded cash and made off with an undisclosed amount, said police spokesman Const. Mike Russell.
He was last seen fleeing on foot southbound down Douglas Street.
Victoria patrol and bike officers and a Saanich canine unit searched for the man, asking the bank and surrounding condominiums in the Humboldt Valley for surveillance footage.
Another robbery occurred at 12:10 p.m., and police believe the same man entered Audio Vibrations at 1930 Blanshard Street, one block from police headquarters on Caledonia Street.
He threatened to have a weapon and demanded cash but fled empty-handed before police could arrive. The man was last seen northbound on Blanshard and officers and police dog flooded the area looking for the man, Russell said.
Undeterred by the police on his trail, he went directly to the Insta Loans cash store on Douglas and Discovery streets just one block away. Again he demanded cash, threatening to have a weapon, but fled with none.
Russell said more than two dozen officers including patrol and bike
officers, detectives, forensic investigators and two canine units are combing the areas right now.
The suspect is a white man, between five-foot-11 and six-feet with blue eyes.
During the bank robbery he was wearing a grey toque, a dark green coat and black pants and his face was covered by a scarf, Russell said. His clothing has varied but he's always had a scarf or cloth over his face, he said.
Anyone with information should call Victoria police at 250-995-7654.
kderosa@timescolonist.com
We thought you might also be interested in..