Thousands stolen from former UVic employee's bank account
Jan 13 2012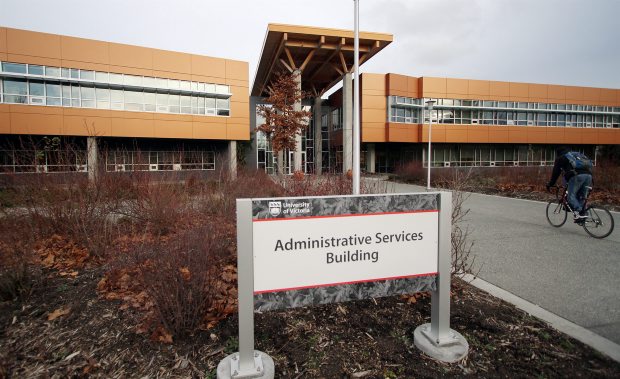 The Administrative Services Building at the University of Victoria. Thieves broke in and stole a storage device that contained employee names, payroll information and social insurance numbers.
Photograph by:
Adrian Lam, timescolonist.com
A former University of Victoria employee had thousands of dollars stolen from their bank account and Saanich police are investigating a possible link to last weekend's break-in and identity theft affecting almost 12,000 UVic employees.
The former employee and Victoria resident reported the theft to Saanich police Wednesday at 5 p.m., but the money had been withdrawn from the account on Monday morning, police spokesman Sgt. Dean Jantzen said.
Last weekend, thieves broke into the university's administrative services building. They ransacked offices and stole laptops, electronic devices and a mobile storage device containing names, payroll information and social insurance numbers of 11,841 current and former employees dating back to Jan. 1, 2010.
Jantzen said given the "perfect storm" of personal information in the hands of criminals, "this may only be the tip of the iceberg" in terms of fraud reports.
Investigators are waiting for paperwork from the victim's bank, which could narrow down where the transaction was made and possibly pinpoint the fraudsters. But Jantzen said personal information can be sold on the Internet and there is no guarantee that the fraudsters also broke into the building.
"This turn of events provides some avenues for investigation," Jantzen said. "We're hopeful we can get to the bottom of how this fraud occurred."
Jantzen said it is not unusual for thieves to act fast in draining money from a bank account before the victim contacts their bank. He stressed that employees who had their identity stolen should immediately contact their bank and put a flag on all accounts.
UVic said there were 700 employees who could not be contacted via email but the university has sent out letters to those people, said Gayle Gorrill, vice president of finance and operations. New of the security breach has also been widely publicized on Facebook, Twitter and the school's website.
Saanich police has added three fraud detectives to the investigation, who will work with the two detectives and forensic technician initially assigned to the case.
"If we require more resources, we'll get them," Jantzen said.
Investigators still do not have any suspects. Police would not comment on whether the break-in was an inside job and would not reveal if they have any surveillance footage from the building.
Police do not believe the thieves were targeting employees' information, rather that they stole items randomly.
University president David Turpin apologized Wednesday for the security breach. He said the data "was in a locked box within a locked safe, which was bolted to the floor, in a locked room in a locked building."
Turpin said backup information was kept so that people could be paid in the case of a catastrophic event, such as an earthquake.
B.C.'s Office of the Information and Privacy Commissioner is investigating whether the university contravened any standards by keeping unencrypted personal information on a mobile device.
Anyone who has been the victim of fraud should contact Saanich police at 250-475-4321.
kderosa@timescolonist.com
— with files from Lindsay Kines
We thought you might also be interested in..