Ian Thow to plead case for day parole Friday
Jan 13 2012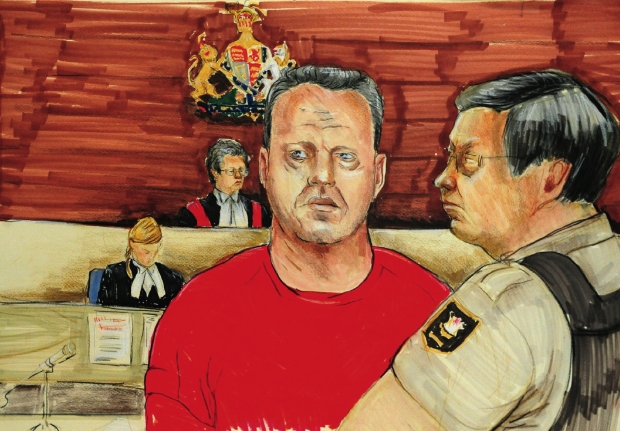 An artist's drawing shows fraudster Ian Thow in front of Judge Jocelyn Palmer in provincial court in Vancouver in 2010.
Photograph by:
Illustration, Felicity Don
Ian Thow could be out from behind bars as early as next week.
The disgraced investment adviser, sentenced in March 2010 to nine years in prison for defrauding 20 former clients of $8 million, appears this morning before a National Parole Board hearing to plead his case for day parole.
According to parole board spokesman Patrick Storey, the decision on Thow's day parole will be handed down today, but if it is approved he's unlikely to be freed from the medium-security Matsqui Institution in Abbotsford until sometime next week.
Thow is eligible for day parole now and will be eligible to apply for full parole on July 3, after having served one-third of his sentence. His statutory release date is set for Nov. 2, 2014, after he has served two-thirds of his sentence. Thow was given two years' credit for the year he spent in custody.
Thow will plead his case today to two members of the National Parole Board during a hearing that is expected to last an hour.
"The decision criteria for any day parole is whether or not the offender poses an undue risk to the community by re-offending," Storey said.
He noted the board will have gone through Thow's exhaustive file and will ask questions of Thow during the hearing. "If they feel he will not pose an undue risk to the community they will likely grant him day parole," Storey said.
The hearing will also have victim impact statements, with some of Thow's victims addressing the hearing. A number of his Victoria-based victims, reached Thursday, said they had already given enough of their lives to Thow and wouldn't entertain the notion of being part of the hearing.
"I'm not planning to be part of it. We have moved on," said Paul Haley, whose family lost $475,000 to Thow's schemes. "He caused a lot of heartache and people have to move on."
Andrea Racicot echoed that sentiment, though she said she and her husband, Gene, had provided statements to the board. The couple were bilked of $375,000 by Thow, who was their investment adviser and a family friend.
"We don't have any desire to attend. I was even wondering if Thow was going to be one of the ones chosen to be on Kevin O'Leary's [Redemption Inc. TV show, where ex-cons get the chance to set up a business]," Racicot quipped. "Is he front and centre, foremost in our minds? No, certainly not.
"We are just trying to figure out how to correct things and get back on course so I can retire. I don't find anger or the desire for revenge makes you feel any better. It just stymies you from getting on with stuff."
Racicot said she hopes that when Thow gets out of prison he "will be monitored enough to make sure he can't commit something like this again and that he will get on with his life and pay back the money as the court ordered."
The court ordered Thow to pay restitution of
$3.9 million and submit a DNA sample.
The RCMP Integrated Market Enforcement Team led a five-year investigation into Thow, a former Berkshire Investment Group vice-president, based on allegations he cheated clients and friends out of more than $32 million. He was ultimately charged with defrauding 20 victims of $8 million.
Thow persuaded clients to invest in several schemes, including shares in a Jamaican bank and short-term loans for developers. The investments were never made and the Crown characterized Thow's actions as a classic Ponzi scheme.
If Thow is granted day parole, he would live at a half-way house that is staffed 24 hours a day, seven days a week.
He would be allowed to go to school or work but would be closely supervised, according to Storey.
"Likely they would closely scrutinize his work given the nature of his offences," he said. "He would be allowed leave from the half-way house but normally only to approved residences and for a limited amount of time."
aduffy@timescolonist.com
We thought you might also be interested in..