Harper heralds new era of shipbuilding on west, east coasts
Jan 13 2012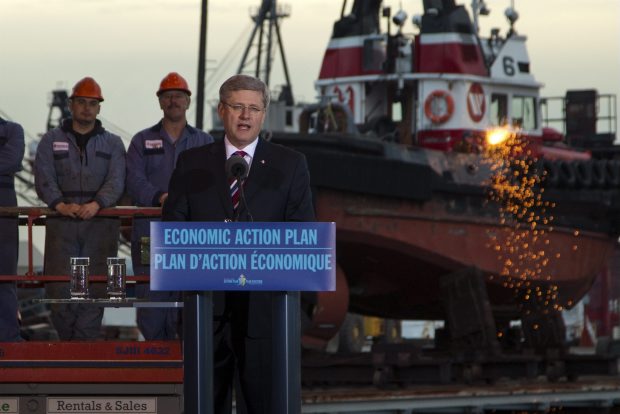 In Vancouver on Thursday, Prime Minister Stephen Harper announces new umbrella deals for shipbuilding on Canada's west and esat coasts.
Photograph by:
Andy Clark, Reuters
North Vancouver — Prime Minister Stephen Harper today heralded a new decades-long era of shipbuilding on Canada's west and east coasts by announcing umbrella agreements with yards for $33-billion worth of federal work.
Ships have been built on the west for more than a cenutry. Under the new federal shipbuilding program, "You will be starting a new chapter in the illustrious history of maritime history of this country," Harper told a gathering of about 400 at Seaspan Maritime's Vancouver yard. Seaspan also owns Victoria Shipyards,
Science vessels will be the first non-combat vessels under this program to be built in B.C. It has not yet been announced which will be constructed first. That information is expected in about three weeks. Three fisheries vessel and one oceanographic vessel are planned, along with other non-combat ships in the $8-billion package going to Seaspan.
The announcement in North Vancouver follows an earlier event in Nova Scotia this morning at Irving Shipbuilding's yard in Halifax. These unmbrella agreements signify a major step in the process leading up to the construction of federal ships and the revitalization of an industry that has suffered ups and downs for decades.
The total package of work on each coast is expected to create 75 million person hours of work, including 4,000 jobs in B.C., Harper said.
Shipyard workers are jubilant at the prospect of stable work and clustered around Harper after the announcement to have their hard hats signed.
In the fall, the federal government announced that Seaspan had won the right to negotiate to build non-combat vessels, and that Irving was selected to negotiate for the $25-billion combat package.
These umbrella agreements cover the responsibilities and authority agreed upon by the federal government and the shipyards. Seaspan and Ottawa were first to come to a settlement, finalizing their deal in the week prior to Christmas. Irving's agreement was wrapped up on Friday.
Competition was heated for the right to build the ships. This is the largest shipbuilding venture in Canada since the Second World War. A consortium including the big Davie Yards in Quebec lost out in the battle for these projects.
Seaspan and Iriving were chosen in a process run by the federal public service in which politicians were not involved. It was a public servant who telephoned Seaspan on the day the decision was announced. Company officials knew the results prior to the Prime Minister and the rest of the federal cabinet.
"Seapan won a transparent, hands-off selection process fair and square," said Harper, who later said that he hopes a similar template can be used in for future procurements.
It's expected that the umbrella agreements will be signed in a couple of weeks. They will be posted on the national shipbuilding procurement strategy's website.
They give the federal government the right to step in and take over completion of a project if it falls behind schedule or if costs skyrocket. Such a provision has been included in some past federal contracts.
Negotiations also gave Ottawa the right to view the books of the companies while the federal work is underway.
After umbrella agreements are signed, shipyards will sign individual contracts for the first of the vessels they will be building.
Seaspan officials expect that the initial vessels will either be fisheries or an oceanographic ship. Preliminary plans from the government go to Seaspan, which then works with other firms to finalize designs. That process is anticipated to run about four or five months.
Ship construction starts in Vancouver, leaving about 20 per cent of the work to be done at Victoria Shipyards in Esquimalt. Finishing work and trials are planned for the Island.
It is this work that has sparked interest among would-be shipyard workers, eager to find steady employment in a now-stable industry. A total of 4,000 jobs are expected to be created out of the Seaspan contracts.
Training organizations, unions, company officials, educational institutions and governments are co-operating to ensure trained shipyard workers will be available when needed. These projects not only give older workers peace of mind in the years remaning until retirement but open up career opportunities for young people.
Anyone interested in becoming an apprecentice can look on the Internet at www.apprenticshiptoolkit.ca and at www.apprenticebc.ca.
Seaspan company is investing about $150 million in infrastructure improvements at its yards to handle the work. Vessel construction will likely start in the first quarter of 2013.
Seaspan has been the west coast's darling. It brought together a group of companies and experts that it dubbed Team Seaspan. Team members toiled late into the evenings and through weekends in the nail-biting countdown to the bid submission deadline of July 21. Seaspan sent 22 boxes packed with 30,000 pages of bid documents to Ottawa.
Victoria Shipyards workers are also working on other major contracts, including a five-year $351-million, mid-life upgrading and modernization for five west coast-based frigates.
It is also carrying out a $375-million maintenance program for Canada's submarines. That too is for five years although it may be extended.
cjwilson@timescolonist.com
We thought you might also be interested in..