Victoria shelters prepare for extra demand as snow forecast
Jan 14 2012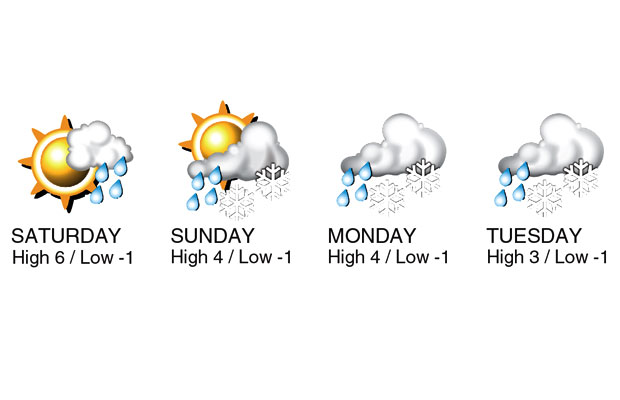 .
Photograph by:
., The Weather Network
Cold weather has triggered Victoria's extreme-weather protocol and extra sleeping mats were put out this week at the Salvation Army and Native Friendship Centre.
"We've not been getting close to filling them up so far, but we're keeping on top of it," said Jen Book, regional co-ordinator for the Greater Victoria Extreme Weather Protocol.
"We have been open for the last couple of nights and no one has been turned away."
Demand for shelter is expected to increase over the weekend.
Environment Canada warned Vancouver Island residents Friday to brace for snow and changeable weather.
Forecasters expect Arctic air to hit the south coast Saturday, with snow falling at higher elevations.
By Sunday, temperatures should be cold enough to see snow at sea level as well, meteorologist David Jones said Friday.
Extra shelter beds are opened in Victoria if the weather is clear and hits minus two degrees, but the protocol is also triggered by rain, sleet and wind, even if temperatures are higher.
"It's not a precise science," Book said. "And any kind of precipitation is not good when you are homeless."
If demand exceeds the 25 extra mats at the Friendship Centre and 30 extra mats at the Salvation Army, other shelters will be opened, Book said.
When extreme weather hits, the number of shelter beds in the city can increase to 370 from 225 if necessary.
Kathy Stinson, Cool Aid Society executive director, said 40 extra mats on the floor at the Rock Bay Landing shelter on Ellice Street are constantly full.
There are also usually five or 10 people waiting in the lobby for a mat if beds have not opened up at other shelters, said Cool Aid shelters manager Don McTavish.
"They may not all get a bed, but no one is turned away," he said.
Rock Bay is seeing the fallout from several landlords and motel owners evicting problem tenants, McTavish said.
"These folks have nowhere to go, so they come to us," he said.
"We are seeing folks who are more challenging or crankier — especially when they get evicted," he said.
Rock Bay has 84 shelter beds and 23 transitional units.
Rev. Al Tysick of the Dandelion Society will be out on the streets at
5:30 a.m. both Saturday and Sunday distributing blankets to some of the hardcore street people.
"I am seeing about 50 people on the street every morning and they are the most vulnerable and most weak," Tysick said.
"I will be trying to persuade people to go inside and I'll be keeping a close eye on them."
One problem is that shelters such as Rock Bay and the Salvation Army fill up quickly and the Friendship Centre is too far for most people, he said.
The centre is on Regina Avenue near the intersection of the Trans-Canada Highway and Tillicum Road.
The RCMP, meanwhile, is urging people to avoid travel because of risks such as black ice in the freezing conditions.
If you have to drive, use caution, pay attention to the road conditions and adjust your speed accordingly, Const. Robert Figueiredo of the Capital Regional District's Integrated Road Safety Unit said Friday.
"If we're going between a negative number and a positive number as far as the temperature goes, the snow or frost will melt and then it will freeze again, causing black ice," he said.
"So just be extra vigilant about that as well and watch your speed."
If there's a lot of snow, Figueiredo said, motorists should ensure their cars are equipped for road conditions with snow tires or chains, and plenty of windshield-wiper fluid.
He also said people should consider carrying a bag of sand for emergency traction, a shovel, warm clothing and emergency supplies in case they get stranded.
Environment Canada said the cold air could stick around for a few days, with snow a possibility until Wednesday.
jlavoie@timescolonist.com
lkines@timescolonist.com
We thought you might also be interested in..
Notice
: Undefined index: event in
/home/viccity/public_html/v2/content.php
on line
67