Oak Bay's top cop tries to restore force's image
Jan 14 2012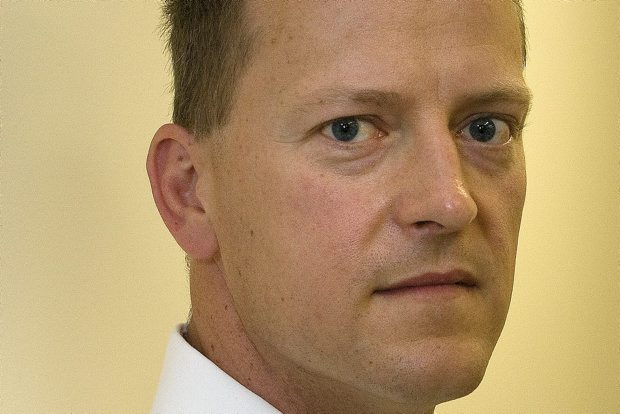 Mark Fisher says morale in the Oak Bay Police Department is good.
Photograph by:
Adrian Lam, timescolonist.com
Oak Bay's police chief is working to reform the troubled department, which last year came under fire amid allegations of racial and sexual discrimination.
When Mark Fisher took over the 24-member police department in July, there were two complaints before the B.C. Human Rights Tribunal. A female officer and an Indo-Canadian officer both said they were passed up for promotion because of sexual and racial discrimination respectively.
Const. Jennifer Gibbs has since reached a settlement with the department, signing a confidentiality agreement. Const. Davinder Dalep is still pursuing his complaint.
But Fisher maintains morale at the department is good. "I definitely don't see rampant racism or sexism in the department," he said.
The former Mountie has been acting on recommendations brought up in the external report completed by retired judge Alan Filmer, which said officers are under-worked and that bikes were collecting dust in the basement instead of being used for visible patrols.
Fisher said he trained three officers on the bikes last summer and plans to train three or four more this spring, which would mean half the department can use them.
Sergeants have been assigned to special portfolios, such as event planning, traffic and overseeing patrol functions. The department also started a vacant residents check, Fisher said, so that people can let the department know if they'll be away for more than a week and officers will patrol around their homes.
The department has revamped its promotions process, after the Times Colonist reported in 2006 how two constables were promoted to sergeant despite failing to required exam. Both officers were investigated under the Police Act for mishandling investigations.
Now, officers have to write an open-book and closed-book exam, write a letter of intent and be evaluated by their sergeants in a variety of areas, Fisher said.
The sergeants, deputy chief and a facilitator meet for two days to talk about the candidates and create a ranking list of most qualified to least, which is in effect for two years.
The department recently advertised for an opening in the department.
After receiving 25 applications, it hired a third female officer, Const. Julie Chanin from West Shore RCMP.
Fisher is continuing with daily muster meetings — started by interim chief Derek Egan, who took over after Ron Gaudet's retirement in 2010 — in an effort to improve communication issues also identified by Filmer.
"Some of the changes in the department have come directly from the membership," Fisher said.
In December, Oak Bay police renewed a five-year contract with Saanich police, worth nearly $1 million, which contracts out all major crime investigations, complex traffic investigations, jail services and dispatch.
Newly elected Oak Bay Mayor Nils Jensen has said he wants to sit down with the region's mayors this spring to talk about better co-ordination of police resources.
Fisher was previously head of West Shore RCMP, which polices Colwood, Langford, View Royal, Metchosin and the Highlands.
Fisher said it is for politicians to say why an amalgamated force works for the five West Shore communities, but not for Victoria, Oak Bay, Esquimalt and Saanich.
"There are some very good things happening in the West Shore because you've got the leverage of all those different funders contributing to the pot and you can have a larger major crime section and those specialized opportunities that you may not have in a smaller unit," Fisher said.
He said the ability to shift resources from one municipality to another means effective deployment where it's needed most.
"But the resources are not fenced to the community ... whereas in the current [Oak Bay] model, your cops are in the community, you have some reassurance of that."
kderosa@timescolonist.com
We thought you might also be interested in..