Disgraced investment adviser Ian Thow denied both day and full parole
Jan 14 2012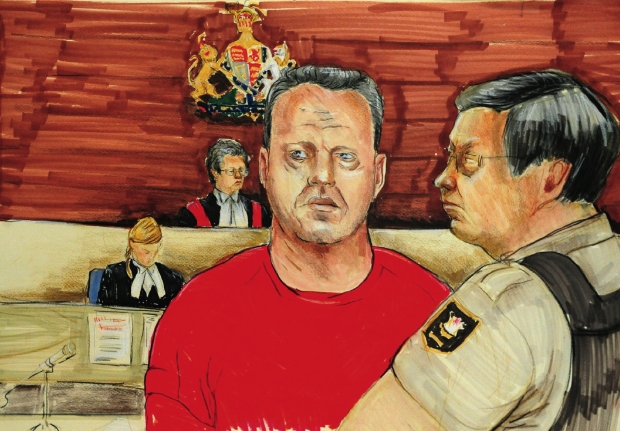 An artist's drawing shows fraudster Ian Thow in front of Judge Jocelyn Palmer in provincial court in Vancouver in 2010.
Photograph by:
Illustration, Felicity Don
Ian Thow is staying behind bars.
The disgraced investment adviser was denied both day and full parole Friday during a hearing with the National Parole Board in the Fraser Valley.
According to parole board spokesman Patrick Storey, the board reviewed both day and full parole because of the proximity of the date Thow would have been eligible for full parole — July 3, 2012.
"That decision has now been made," said Storey.
He added it will now be between eight and 12 months — the time it takes to finish reports, complete paperwork and schedule a hearing — before Thow will be able to apply for day parole again.
"In making a decision, the board wants to assure itself that any offender understands what he did and why he did it, and they want to see some evidence that he has addressed the reasons why he did what he did and also any changes in behaviour and attitude since he has been incarcerated," said Storey.
He noted the board's questions for Thow focused on attitude, behaviour and his release plan.
"It's fair to say they
didn't see enough evidence of change in attitude and behaviour and found his release plans not up to snuff," said Storey.
None of Thow's victims made presentations and no victim impact statements were read to the two-person board on Friday, though some victims made submissions that were part of Thow's file the board reviewed. "In the end, the board bases its decision on legal criteria which is whether or not, in their opinion and given the information they have, the risk to re-offend is or is not undue. They felt [Thow's] risk to re-offend to be undue," Storey said.
Thow, who was sentenced in March 2010 to nine years and to pay restitution of $3.9 million for defrauding 20 clients of
$8 million, will continue to be held at the minimum-security Ferndale Institution north of Mission.
Thow's statutory release date is set for Nov. 2, 2014, after he has served two-thirds of his sentence. Thow was given two years' credit for the year he spent in custody, meaning his prison sentence is actually seven years.
Reaction to the denial of parole was muted in Victoria Friday, with many of Thow's victims saying they would prefer to focus on getting on with their lives.
"Was it unexpected that he would be denied, I don't know, but do you know to me it doesn't really matter at all anymore," said Andrea Racicot, who was bilked of $375,000 by Thow. "The longer he's in there, the longer he's doing nothing to meet his obligations."
Racicot was quick to point out that despite some media reports that Thow had apologized to his victims, there was little truth in it. "I can tell you, no, he hasn't," she said.
Another of Thow's Victoria victims, who asked not to be named, said the denial of parole, like any kind of punishment, does little to salve the wounds Thow opened. "There's very little that can happen to him or that I could do to him that would give me any real satisfaction. In a sense he is a dead issue," he said.
Ron Black, who was taken for $700,000 by Thow, was happy to hear his former investment adviser would be spending more time behind bars. "I'm glad he's still in there, though I think he should have been given a longer sentence based on what he did to a lot of people . . . he destroyed people," said Black. "I don't think he even deserves a chance of parole."
Black said he wasn't surprised to hear the parole board had trouble with Thow's behaviour and attitude. "When he was in court and first sentenced and the judge asked if he had anything to say, he certainly didn't say sorry. That gives you an idea of what kind of guy he is," Black said.
Thow's crimes shattered the lives of many people in Victoria and led to health issues, family breakups and depression among some of his former clients.
The RCMP Integrated Market Enforcement Team led a five-year investigation into Thow, a former Berkshire Investment Group vice-president, based on allegations he cheated clients and friends out of more than $32 million. He was ultimately charged with defrauding
20 victims of $8 million.
Thow persuaded clients to invest in several schemes, including shares in a Jamaican bank and short-term loans. The investments were never made and the Crown characterized Thow's actions as a classic Ponzi scheme.
aduffy@timescolonist.com
We thought you might also be interested in..