Copper thieves go to extraordinary lengths in Greater Victoria
Jan 14 2012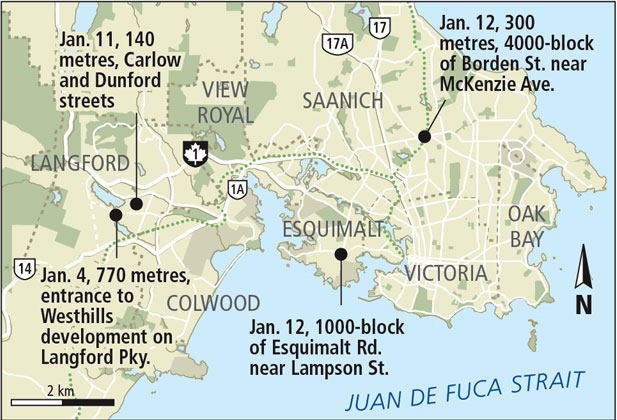 .
Photograph by:
., timescolonist.com
B.C. Hydro says recent copper wire heists in Greater Victoria are of unprecedented sophistication and have cost the corporation $100,000.
Copper bandits struck this week in Saanich, on Borden street just north of McKenzie Avenue, stealing $10,000 worth of electrical wire from underground.
Police are investigating whether the same individuals are behind four other underground copper thefts in the past month, two in Esquimalt and two in Langford, including a case where $35,000 worth of wire weigh ing two tons was stolen. B.C. Hydro called it one of the largest thefts it has suffered on Vancouver Island.
Bob Harriman, Hydro's chief security officer, said he's never seen organized thefts of this magnitude, where thieves have targeted copper underground at high risk.
"This is an unusual situation that we have not seen before and it is limited to the Greater Victoria area," said Harriman, noting the $100,000 figure includes lost wire and replacement costs.
B.C. Hydro staff alerted Saanich police on Thursday at 4 p.m. about the latest theft. The culprits climbed into manholes in the 4000-block of Borden Street and stole 300 metres of one-inch wire, weighing more than a ton, said police spokesman Sgt. Dean Jantzen. The power company also noticed a manhole was tampered with at McKenzie Avenue and Century Road, although no wire was stolen.
The thieves left behind clothing and ladders used to climb down the manholes.
There have been reports of B.C. Hydro uniforms being stolen from work vehicles, Jantzen said, which may be how the thieves have avoided calling attention to themselves.
The thieves would require expensive hydraulic equipment to haul out the wire and a large truck, Harriman said. "You can't simply climb in the manhole and pull it out by hand."
The thieves likely have some knowledge of electrical systems, since they cut neutral wires running along side live wires, Harriman said. But he would not speculate on whether that could point to current or former B.C. Hydro employees.
West Shore RCMP's major crime section is working on the case.
Police are advising people to report B.C. Hydro "crews" working at odd hours where there is no obvious outage.
B.C. Hydro crews always use lights, barricades and signs, and have clearly marked vehicles, Harriman said.
The corporation has seen a spike in copper-wire thefts across the province in the last three months, at a cost of at least $750,000 in wire and damage.
A surge in metal thefts prompted the province to impose tougher rules on scrap-metal dealers, requiring them to keep records of who they buy from.
Lloyd Williams, owner of Williams Scrap Iron and Metals, said he buys most of his metal from contractors and records the names, driver's licence numbers and licence plate numbers of all sellers.
Williams said he typically wouldn't buy a large quantity of copper from someone he didn't know. If a seller won't say where he got the metal, Williams said, he would call other scrap-metal companies and warn them of the suspicious person.
"Nobody wants to deal with stolen stuff and you don't want to deal with thieves."
kderosa@timescolonist.com
We thought you might also be interested in..