Obituary: Skateboarding pioneer, tattoo artist James "Jamer" Lindsay
Jan 15 2012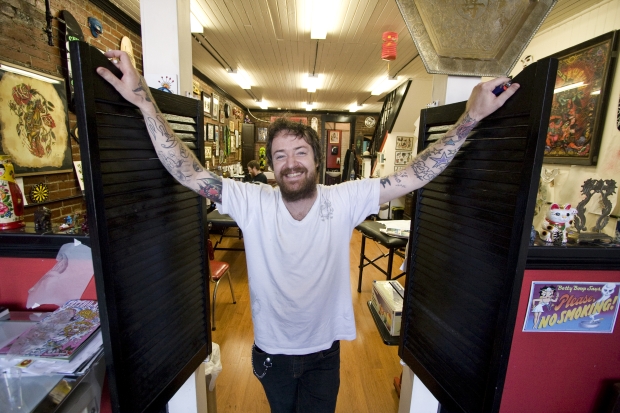 Tattoo artist Jamer Lindsay at Sailor Jerry's Tattoo Shop in Victoria, in August 2009. Lindsay has died at age 38.
Photograph by:
Darren Stone, Victoria Times Colonist, Aug. 27, 2009
James Lindsay developed a skateboarding style defined by fluid motion. The longtime Victoria resident, whose friends called him Jamer, was one of the city's earliest street skaters and a pioneer in the advancement of the sport on local turf.
Jamer, who had struggled with depression, died Wednesday of an overdose, according to his family. He was 38.
Described by his friends as the best skateboarder to come out of Victoria, with a laidback style that was uniquely his own, Jamer was born to ride. And when he whizzed down the city's streets, people couldn't help but stop and look.
"I loved to watch him skateboard," said his father, James Lindsay Sr. "He was immensely stylish, from his fingers to his toes."
Jake Warren, a longtime friend and fellow skater who met Jamer during the mid-1980s, described his late friend's skate style as "flowing but chaotic."
"He didn't know what was going to happen until it was happening, but it looked like it was planned out," Warren said. "It was pure skateboarding."
The multi-faceted talent, who also played in local punk bands, worked in recent years as a tattoo artist, the realization of a dream that began with a penchant for graffiti art in the early 1980s - another then-underground activity Jamer helped to popularize around these parts.
He had been working at Empire Tattoo on Douglas Street in recent months, following three years as the co-owner of Sailor Jerry's, which has since become Government Street Tattoo.
In a fitting tribute, a graffiti mural was painted on the side of Wild Fire Organic Bakery and Café just 24 hours after his passing. It read: "You will be missed, Jamer."
Musician and artist Rennie Foster witnessed Jamer's prodigious abilities first-hand. The two friends had a shared interest in music, graffiti and skateboarding, activities that dominated their formative years. They got into trouble on occasion, but a smile was never far from Jamer's face.
Though he had the potential to be a professional skateboarder or well-known artist, it surprised nearly everyone that Jamer never had full confidence in his abilities.
"I don't think he knew how good he really was," Foster said. "He was as good as any skateboarder in the world. To watch him, it was like a phenomenon."
Jamer's father, also a celebrated visual artist, often had to push his son to promote his work. Jamer made a living as a tattoo artist, eventually owning a shop of his own, but never felt a sense of accomplishment in his efforts, his father said.
"The life he had wasn't as easy as some people thought it might look, because he was so good at everything. For some people, excelling makes them feel good. For him, there was something missing. He found it difficult to take credit for all the praise for his skateboarding and art."
Jamer had struggled with drugs in the past, his father said, and had been coping with depression. He could be difficult to reach at times, too. But he was never without a huge group of friends, many of whom have been by his side since they were teenagers.
Warren, whose arms sport numerous tattoos by Jamer, said the old-school skateboard community is reeling from the loss of a sparkplug who helped to push forward the construction of Greater Victoria's first official skate park.
The streets will feel empty without his famously mischievous personality, Warren said.
"There is a definite sense of loss. Something definitely has changed. It certainly doesn't feel right."
mdevlin@timescolonist.com
We thought you might also be interested in..