Ultraviolet wands shed light on hospital cleaning
Jan 15 2012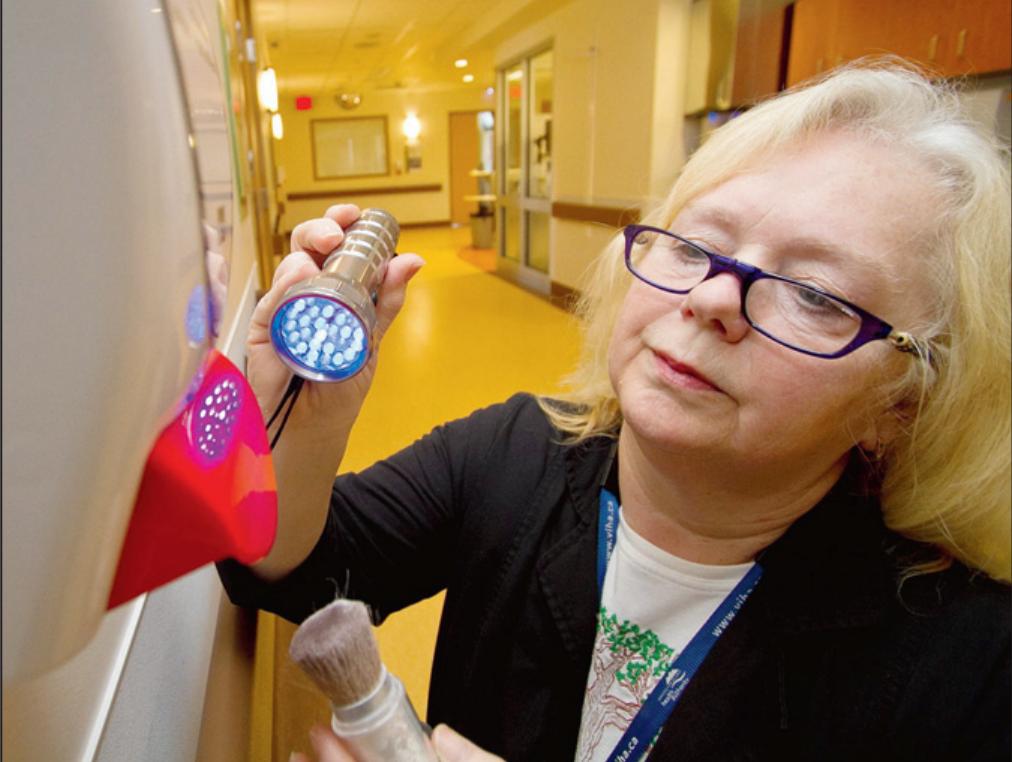 Marlee Loiselle, contract manager of Environmental Support Services with the Vancouver Island Health Authority, uses an ultraviolet light to detect unclean areas in a test at Royal Jubilee Hospital.
Photograph by:
Darren Stone, Times Colonist, Times Colonist
Cleaning inspections at Vancouver Island Health Authority facilities this year will involve some hightech detective work, thanks to the use of hand-held ultraviolet lights.
It's a far cry from the technology used on crime-investigation TV dramas such as CSI. It's even a step down from news magazine programs that show ultraviolet wands illuminating contagious viruses in household bathrooms or icky DNA on hotel bedspreads.
"It's similar technology, but we're using it in a lowtech way," said Murray Hutchison, VIHA's corporate director of general support services.
VIHA staff will identify and mark 10 of the "most touched points" in a given room or area of a health facility.
Twenty-four hours later, inspectors will return and shine a UV light on the areas. If the mark is still there, it is proof the area hasn't been sufficiently cleaned.
The tools are part of VIHA's strategy to improve cleanliness at its facilities.
Improper cleaning methods and insufficient cleaner strength played a significant role in an 11-month C. difficile outbreak that started in 2008 at Nanaimo Regional General Hospital and infected 94 people and killed five.
Last week, VIHA announced a new private housekeeping contract worth about $10.6 million a year over five years, with Crothall Services Canada, a division of Compass Group Canada.
The new contract covers housekeeping services at Victoria General, Nanaimo and Cowichan District hospitals and at Cairnsmore Place and Dufferin Place residential care facilities.
Although Crothall was the previous provider, the new contract raises cleaning standards targets, increases staffing levels to 246 from 212 full-time equivalents, creates a specialist outbreak cleaning team, enhances monitoring processes and introduces more patient and staff satisfaction surveys.
This new approach to cleaning, developed in co-operation with VIHA's infection-control department, is part of all new housecleaning contracts across the Island.
As part of its monitoring, VIHA is testing UV equipment provided by Westech Systems Inc. in three facilities - Victoria General, Nanaimo and Cowichan District hospitals. The technology will officially roll out in all VIHA facilities in 2013, the second year of housecleaning contracts.
"The testing is somewhat validating the usefulness of the tool," Hutchison said.
The device looks like a small flashlight. It emits high-energy UV light that will be absorbed by the marking material - likely some type of phosphor - placed by VIHA inspectors on frequently touched surfaces in a given healthcare facility.
Seconds after exposure to the UV light, the electrons in the material, which become "excited," return to a lower energy state by emitting light; that is the phosphorous glow that inspectors will see, said Rob Lipson, dean of science at the University of Victoria.
"It's a good observational and educational tool," Hutchison said. "We looked across the cleaning industry and this is really starting to get some legs."
VIHA staff is manually entering the results of the inspections on computers. In the future, auditors will use a hand-held device to record results of inspections and immediately send them to facilities so that they can be rectified immediately, Hutchison said.
Hutchison could not say whether the results of the cleaning audits will be made public on the health authority's website. Service providers face financial penalties for failed audits. ceharnett@timescolonist.com
We thought you might also be interested in..