Ice, snow lead to collisions, road closures in Greater Victoria
Jan 15 2012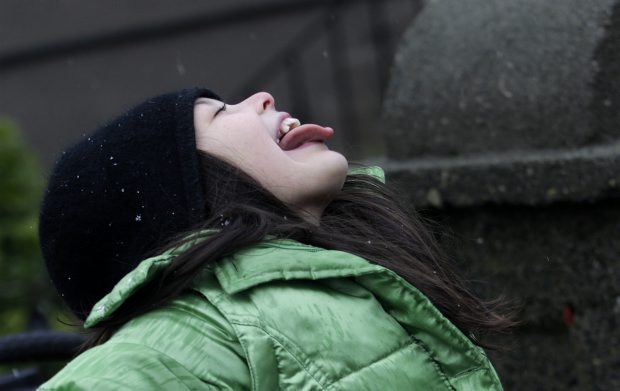 Eight-year-old Niya Elliott-Dignan attempts to catch snowflakes during a brief snow flurry in Victoria on Jan. 14, 2012.
Photograph by:
Lyle Stafford, timescolonist.com
Icy conditions from a sudden cold snap caused car crashes and road closures in Greater Victoria on Saturday night and Sunday morning.
Several centimetres of snow fell on Victoria overnight with more falling in areas of higher elevation. The cold and mild weather yesterday led to icy conditions.
Saanich police reported three accidents Sunday morning, all within an hour of each other.
The first was near the intersection at Shelbourne Street and Cedar Hill Road about 7:30 a.m. No one was injured in the two-vehicle collision.
Two more accidents occurred at Saanich Road and Oak Street. While police attended a single-vehicle accident just before 8:30 a.m., the driver of another vehicle crashed as well.
Within hours of the cold moving in Saturday, Saanich police responded to several collisions and had to close part of Old West Saanich Road so that emergency responders could deal with one accident.
Driving conditions were dangerous throughout Saanich, said Const. Kris Dukeshire. Of special concern were areas at higher elevations, including Sayward Road, Cordova Bay Road and Willis Point.
In Nanaimo, Staff Sgt. Mike Wilton said he was bracing himself for the inevitable vehicle crashes that come when motorists do not adjust their driving to suit poor weather conditions.
dspalding@timescolonist.com
ceharnett@timescolonist.com
We thought you might also be interested in..