More than 500 flex muscles for Times Colonist's Health Club Challenge
Jan 16 2012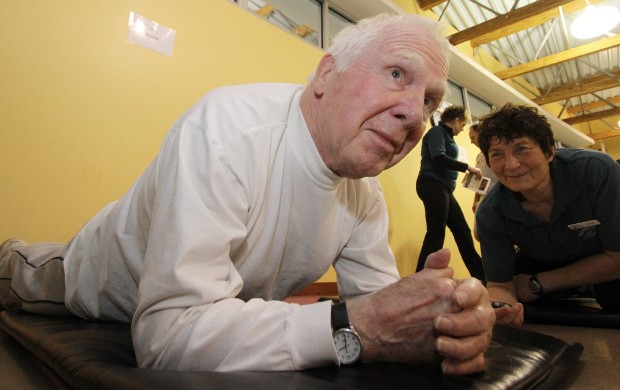 Ron Stansfield, 82, performs the timed-plank exercise, timed by Barb Tymusko, to help launch of the Times Colonist's annual Health Club Challenge at the Oak Bay Recreation Centre on Sunday, Jan. 15, 2012. Fitness tests were done at the Oak Bay facility as well as at the Juan de Fuca Recreation Centre and the Pacific Institute for Sport Excellence.
Photograph by:
Adrian Lam, timescolonist.com
As the Times Colonist throws down its fitness challenge for the second year in a row, an increasing number of Greater Victoria residents have taken up the gauntlet.
More than 300 people have joined the at-home component of the Health Club Challenge — a 12-week program that aims to improve the participants' nutrition, fitness and conditioning.
The main health challenge, meanwhile, involves five carefully selected participants who will receive free fitness sessions with a personal trainer, a meal plan with a nutritionist and at least one interview with a sports psychologist.
Their names will be announced in Thursday's edition of the Times Colonist. Readers can follow their stories via weekly instalments in the newspaper and online during the three-month challenge.
The program aims to create monumental change for these individuals, and their stories can be inspirational for readers who are following along at home.
"The five winners this year, their stories are pretty inspiring. So if people will read their stories every Thursday, I think we'll see more people following along at home," said Mikyla Cleal, program and event specialist at the Pacific Institute for Sport Excellence.
PISE co-ordinates the challenge. When it was introduced last year, 390 participants embarked on the at-home portion. Having more than 500 show up to be tested this year illustrates the program's success, Mikyla said.
Participants will get weekly nutrition tips and fitness tips from Cleal via email. The help participants receive in the at-home program is not as intensive as in the main challenge, but there is support to help everyone achieve a healthier lifestyle.
"We're here to guide them and give them encouragement, and then they'll come back in 12 weeks and do these tests again to see if there's any improvement," Cleal said.
Ron Stansfield agreed. The 82-year-old Victoria resident read about the challenge when he picked up a copy of his daily newspaper.
He wants to improve his "balance, stamina and brain function," according to the chart he filled out when signing up for the program at the Oak Bay Recreation Centre Sunday afternoon.
"I'd like to see a bit of weight loss, but just an overall improvement in health," he said of his goals.
That goal was echoed by many who filed into three fitness centres throughout the day, including the Pacific Institute for Sport Excellence and the Juan de Fuca Recreation Centre.
A slender Penny Pattison sat against a wall without a chair below her for the first time in her life. The goal: To test her lower body strength. At 60, this was not an easy exercise, but she did better than she thought, lasting about a minute.
"I want to be fit," she said of her reason for joining the at-home challenge. "It's not about weight. People say I'm fine, but I just don't feel as strong as I should be."
Inspiring people to embrace the challenge is the main goal of the effort.
"Last year, we had really great stories about people who followed along at home, like a woman in Oak Bay who lost 30 pounds. That's what it's about, hearing those great stories about regular people in our community," said the Times Colonist's Shannon Kowalko, an event organizer.
"If we can provide the general public with basic tips on fitness and good nutrition, then we've done our part."
dspalding@timescolonist.com
We thought you might also be interested in..