Arctic front expected to bring snow to capital Monday afternoon
Jan 16 2012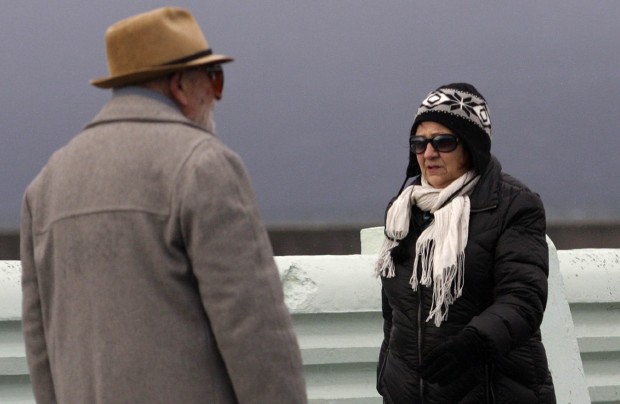 Brrrr. It was that kind of weekend. A warmly dressed man passes a bundled-up woman on Dallas Road during a brief snow shower Saturday, Jan.14, 2012. Expect more of the same this week.
Photograph by:
Lyle Stafford, timescolonist.com
A slight chance of snow was predicted for Victoria overnight Sunday, with the odds increasing significantly Monday afternoon, according to Environment Canada.
Vancouver Islanders saw their first signs of winter during the weekend, with snow falling to various depths during the past few days.
Environment Canada forecast that an arctic front would continue to bring in subzero temperatures Sunday night and into Monday morning, with Victoria thermometers dropping to -5 C. Nanaimo and the rest of the east of the Island was expected to bottom out at -6.
Despite the freezing conditions, capital region police were reporting few accidents as of Sunday evening.
Snow had been expected to fall in Greater Victoria Sunday. But "from a look at the satellites, most of the clouds have cleared off," Cindy Yu, a meteorologist with Environment Canada, said Sunday evening.
"That arctic front is coming through though and we are expecting snow [Monday] afternoon."
The western side of Vancouver Island was forecast to see temperatures drop to -4 overnight Sunday. It will likely see a mixture of snow and rain Monday because of wet maritime air that will get picked up by the arctic front, Yu explained.
Victoria is forecast to receive as much as two centimetres of snow Monday, while Nanaimo and Courtenay could see more.
The freezing temperatures will mean an extension of the extreme-weather protocol at homeless shelters in Victoria. As of Saturday, 300 shelter spaces had been opened. They consisted of 175 beds and 125 mats.
Shelters have been busy, but officials said there has been no need to open an additional two shelters that could provide another 90 mats if needed.
"We're definitely busy with people accessing the shelters, but we're handling the demand quite well right now," said Jen Book, the extreme weather co-ordinator.
With snowfall in the forecast, more people might use the shelters. Many homeless people do not come indoors until they are wet, Book said.
Police throughout Greater Victoria reported few accidents Sunday, but officers were keeping a close eye on weather conditions.
"We'll see how the weather plays out," said Sgt. Scott Treble with the Saanich police, the only department to report some accidents early Sunday.
dspalding@timescolnist.com
We thought you might also be interested in..