Repaired Queen of Oak Bay back in service
Jan 16 2012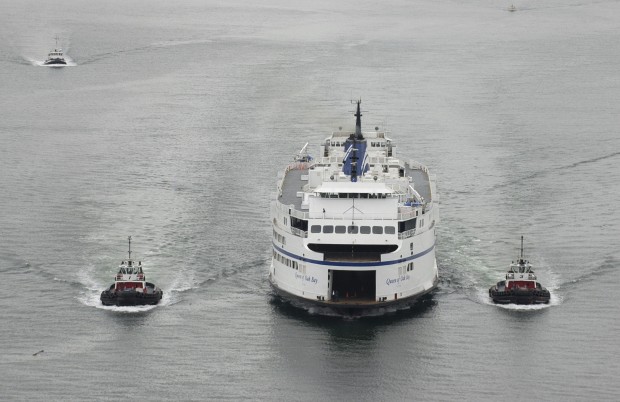 Escorted by two tugboats, the Queen of Oak Bay heads out for sea trials in July 2005 after a major accident at Horsehoe Bay.
Photograph by:
Gerry Kahrmann, Postmedia News
The Queen of Oak Bay returned to her regular route between Vancouver Island and the Lower Mainland Sunday after being out of service slightly more than two days.
Mechanical errors forced the vessel off her route late Thursday, resulting in eight cancelled sailings over two days on various routes.
The 31-year-old vessel ran into trouble during the 5 p.m. sailing Thursday. Two sailings were cancelled between Nanaimo and Horseshoe Bay that night.
B.C. Ferries moved a ship from the Tsawwassen-Departure Bay route up to Horseshoe Bay to replace the Queen of Oak Bay, causing other cancellations.
Engineers found a blown cylinder in one of the vessel's two main engines. B.C. Ferries crews were out Saturday afternoon, doing test runs with inspectors from Transportation Canada, before the Queen of Oak Bay was given the final OK to return to her run between Departure Bay and Horseshoe Bay.
Sea trials lasted more than four hours.
With the vessel running again, the Coastal Renaissance was returned to the Tsawwassen run.
Due to a missing cotter pin, the Queen of Oak Bay lost its ability to manoeuvre as it approached Horseshoe Bay in June 2005, ramming through several wharves at a nearby marina and damaging more than two dozen boats.
dspalding@timescolonist.com
We thought you might also be interested in..