Future of health care top issue as premiers gather in Victoria
Jan 16 2012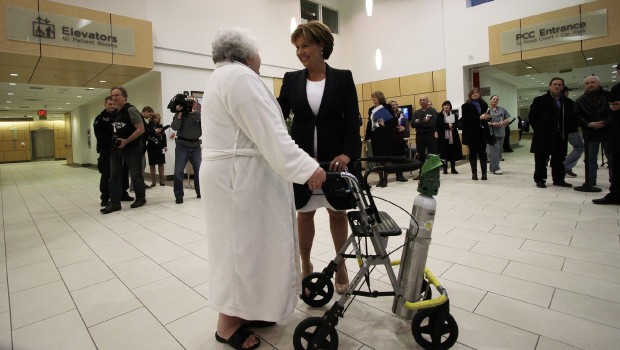 Premier Christy Clark talks with patient Yvonne Kearney after a tour of the new patient-care centre at Royal Jubilee Hospital on Sunday, Jan. 15, 2012. Clark is playing host to this week's Council of the Federation meeting in Victoria, where premiers from across the country are expected to focus on health-care issues.
Photograph by:
Adrian Lam, timescolonist.com
Canadian premiers have to come up with innovative ways to cut health-care costs while improving the medicare system across the country, Premier Christy Clark said Sunday afternoon.
The B.C. host of this week's Council of the Federation meeting in Victoria was joined by premiers from several provinces and territories for a tour of the new patient-care centre at the city's Royal Jubilee Hospital.
The politicians realize their increased responsibilities in face of Prime Minister Stephen Harper's hands-off approach with health-care transfer funds. They also understand a new per capita funding formula from Ottawa could have significant impacts for provinces with an aging population.
To step up to the challenges ahead, the premiers must share innovative ideas and improve services, Clark told news media after the tour.
"Some of the things, you've seen in this hospital today. Private patient rooms, if you have them … can probably reduce the rate of hospital-acquired infections by 20 per cent," she said. "Each of us has examples from across the country that we need to germinate across provinces."
Monday and Tuesday, Clark will play host to a premiers' meeting that will focus on the future of medicare in this country.
The absence of Harper at this week's gathering is symbolic of a new era for health transfers in Canada. Tens of billions of dollars have for decades been funnelled from Ottawa with restrictions on where the money can be spent.
Harper has taken a much more hands-off approach than previous prime ministers, and the premiers say they will need to step up and demonstrate they can handle this new dynamic.
"This is really a huge opportunity for premiers to step up and to take the reins on health care in a way that we haven't been really welcomed to do," Clark said.
Federal Finance Minister Jim Flaherty shocked his provincial counterparts in December when he flew into Victoria and shoved a new health-care transfer-fund deal at them without any consultation.
The transfers will continue to increase at the current annual rate of six per cent until 2016-17. From then on, funding increases will be linked to economic growth including inflation, expected to hover around four per cent.
In addition to the reduced increases, Flaherty introduced a per capita funding formula that has several premiers concerned — including Clark.
B.C. Finance Minister Kevin Falcon supported Flaherty's plan in December. But Clark has since backed off, saying that as the plan stands it would penalize B.C. because of the high number of seniors in the province.
"I'm saying you've got refine the proposal a little bit to reflect the fact that a senior citizen incurs about $22,000 in health-care bills in a year and someone in their twenties incurs less than $2,000 on average," she said.
Strict per capita funding does not reflect the particular needs of each province, Manitoba Premier Greg Selinger agreed.
"The underlying principle is that every province should be able to offer comparable levels of service — and every jurisdiction has different needs," he said. "Some jurisdictions have special-needs populations, some jurisdictions have more remote communities that need to be serviced, some jurisdictions have a growing number of seniors."
dspalding@timescolonist.com
We thought you might also be interested in..