Few problems with this morning's commute, despite some snow flurries
Jan 16 2012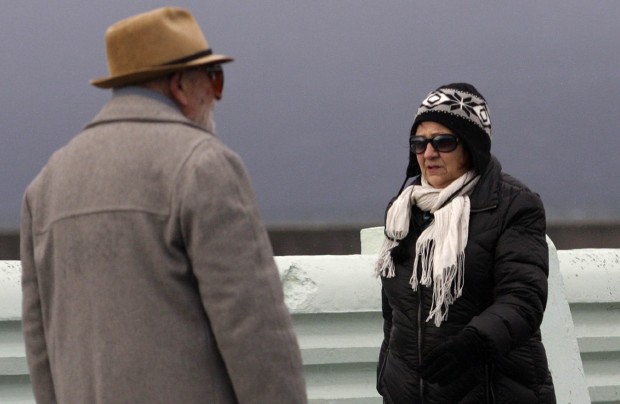 Brrrr. It was that kind of weekend. A warmly dressed man passes a bundled-up woman on Dallas Road during a brief snow shower Saturday, Jan.14, 2012. Expect more of the same this week.
Photograph by:
Lyle Stafford, timescolonist.com
Police departments reported little trouble with the Monday morning commute, despite snow flurries in many areas overnight.
Saanich police Staff Sgt. Todd Bryant said about 8 a.m. that most roads were in good shape and no accidents had been reported. The situation was similar with RCMP Vancouver Island Traffic Services, which also reported few, if any, difficulties on south Island roads within its jurisdiction.
The Environment Canada weather forecast for the Victoria area calls for periods of snow in the late afternoon today, with a high of two degrees Celsius. About two to four centimetres of snow are expected through the night, followed by a 40 per cent chance of flurries late Tuesday afternoon.
More flurries are forecast for Wednesday, followed by rain or snow on Thursday and rain on Friday and Saturday.
We thought you might also be interested in..