WestJet short-haul proposal could benefit Victoria: Airport CEO
Jan 17 2012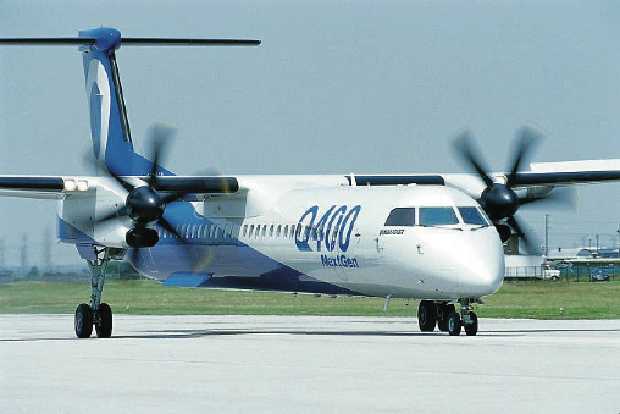 Although WestJet will not confirm any regional short-haul airline will go ahead, market speculation has suggested the Canadian-made Bombardier Q400 would be the most likely candidate as a choice of aircraft.
Photograph by:
., Bombardier
Victoria Airport Authority officials are enthusiastic about WestJet's announcement that it is contemplating a regional, short-haul airline, hoping that Vancouver Island would be included in any expansion.
"I haven't spoken to WestJet senior executives yet, but we are really excited and interested to see what opportunities there might be for Victoria airport," said Geoff Dickson, airport authority president and CEO.
"One of the things that comes to mind would be a potential new feeder service from Vancouver into Victoria, for WestJet to take advantage of much of the international in-bound traffic that is coming into Vancouver today."
Demand for Victoria-Vancouver flights is already strong, Dickson said. "But whenever you get new carriers in the market, it always grows the market, simply because they will probably be more aggressive with their pricing."
WestJet cautions, however, that no decisions have been made.
Air Canada is the main carrier between Victoria and Vancouver.
A short-haul service using smaller turboprop aircraft may also deliver more flights into Kelowna, already served by WestJet, as well as open up new markets in B.C. that connect Victoria. The two most logical new markets from Dickson's perspective would be Vancouver and Kamloops.
Dickson's optimism comes as December ended with 124,928 passengers, up 2.3 per cent from 122,140 during the same month in 2010. He attributes the increase to new winter flights to Phoenix, and to international passengers heading to Mexico.
December posted the second-highest number of passengers on record for that month, falling behind December 2009 by just 21 passengers, he said. The airport wrapped up 2011 with a total of 1,499,792 passengers, down slightly from 1,514,713 in 2010.
WestJet said the new regional service could come into effect as early as next year, a move that would put it head to head with its rival Air Canada on routes to smaller destinations in Canada.
No more updates will be provided until a decision is made, a WestJet official said. WestJet said it expected to hold talks with employees through January on the plan to set up the carrier, which would operate 40 turboprop planes.
Until now, WestJet, which was launched in 1996 as a low-cost airline modelled on U.S.-based Southwest Airlines, has operated a single fleet of Boeing 737 aircraft on routes within Canada and mainly to sunny destinations in the United States, Mexico and the Caribbean.
But the Calgary-based airline, which has increasingly moved away from its low-cost roots as it searches for new revenue sources, has mulled adding a second fleet for some time.
Officials said in several media interviews over the Christmas period that if the airline expands, it will likely be via a fleet of smaller aircraft to serve smaller communities in Canada.
The move would increase competition with Air Canada, the country's largest carrier, which uses regional airline Chorus Aviation to fly to smaller domestic markets.
"Right now, in a lot of places, Air Canada is maybe the only game in town," said PI Financial analyst Chris Murray.
WestJet said staff would be asked to vote on the proposal, which would create new connections with existing WestJet destinations and boost the frequency of its flights. The process should be completed in early February, a spokeswoman said.
WestJet chairman and founder Clive Beddoe said a sister company would operate the turboprops.
WestJet did not say which aircraft it has in mind. But market speculation is that the Q400 turboprop, made by fellow Canadian company Bombardier Inc., is the most likely candidate.
Murray noted the new airline's likely competitors, Chorus and Skyservice Business Aviation, also fly Q400s, as does Porter Airlines, a regional airline focused on Eastern Canada.
Shares in WestJet closed Monday at $11.60, down 20 cents on the TSX.
cjwilson@timescolonist.com
We thought you might also be interested in..