Be prepared — cold snap, snow forecast
Jan 17 2012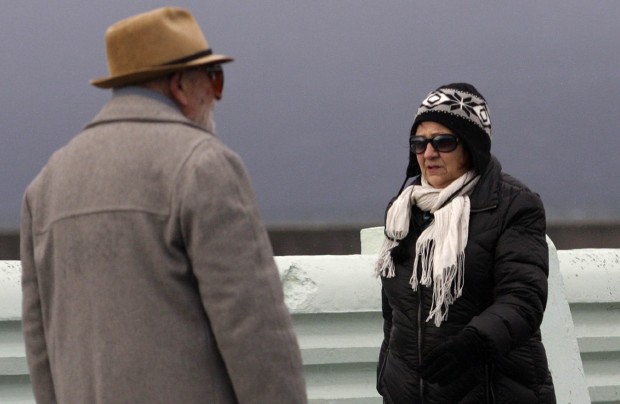 Brrrr. It was that kind of weekend. A warmly dressed man passes a bundled-up woman on Dallas Road during a brief snow shower Saturday, Jan.14, 2012. Expect more of the same this week.
Photograph by:
Lyle Stafford, timescolonist.com
All eyes were on the sky in Greater Victoria Monday evening as anxious commuters tried to make it home before the forecasted dump of five centimetres of snow.
Only minor accidents were reported during rush hour, but, as snow piled up, the Malahat was closed after a four-vehicle accident, north of Aspen Road, shortly before 8 p.m.
A single lane of traffic was expected to be open by 8.30 p.m and no serious injuries were reported, said Const. Kelly Falconer of West Shore RCMP.
Earlier, a one-vehicle accident north of the Malahat also briefly held up traffic.
"In other areas we're seeing minor accidents and we are anticipating lots more," Falconer said.
"It is treacherous."
There will be little let-up from freezing temperatures and intermittent snow for the rest of the week.
"It's not so good," said Environment Canada forecaster Greg Pearce.
"We have a weak low forming just over the northwest top of Vancouver Island and it's going to move southeast across the Island overnight. By morning it will be east of Victoria and it will be bringing some snow," Pearce said.
The next punch, starting Tuesday evening, will come from an Arctic front, which is expected to drive temperatures down to minus three degrees, Pearce said.
The west coast of the Island and some inland areas will see temperatures of -7 C, he said.
"It's going to be pretty chilly by Island standards."
Then, moisture is likely to move in from a southwest Pacific low.
"Wednesday and Thursday there could be snow and it could be heavy, but we don't know the details yet," Pearce said.
"The good news is it's likely to be over by the weekend."
Environment Canada's forecast for Friday calls for rain, with a high of 6 and low of -2. By Saturday, the weekend looks more like expected Victoria weather, with rain and a high of 7 and a low 3.
Victoria police are warning drivers to adjust their driving habits for slippery conditions.
"Slow down, maintain a safe following distance and accelerate and brake slowly," said spokesman Const. Mike Russell.
The police department's CRASH team will give a demonstration of winter driving at 10.30 a.m. Tuesday at Royal Athletic Park parking lot. Team members will also talk about winter driving hazards and demonstrate equipment used in collision reconstructions.
"It will go ahead regardless of weather, but we are really hoping for snow," Russell said.
Jokes about Greater Victoria drivers and their inability to drive in snow are accurate, he said.
"Oh my! It's ridiculous sometimes," said Russell, who spent 27 years in Edmonton.
City of Victoria public works staff put brine along major emergency and bus routes, hills and bridges Monday and were preparing to start de-icing and ploughing as soon as snow started falling.
Roads must be clear for crews to plough and vehicle owners are asked to park off-street.
"Residents and businesses are reminded that . . . they are required to clear snow and ice from sidewalks in front of their property by 10 a.m. each day," said a city news release.
Environmentally sensitive ice melt is recommended as rock salt is harmful to concrete sidewalks, pets paws and the environment, it says.
Anyone not complying faces fines of $150.
Jen Book, Victoria's extreme weather co-ordinator, said extra mats are available at the Native Friendship Centre in Saanich and the Salvation Army downtown.
About 35 spaces were unused Sunday night and two more shelters can be opened if demand increases, she said.
"We have really made sure to get the word out to get as many people inside as want to come in," she said.
Some are already suffering from coughs and lung conditions, Book said.
"We have a couple of people with pneumonia and we're seeing other cold-related illnesses," she said.
jlavoie@timescolonist.com
We thought you might also be interested in..