Health-care funding plan must change, premiers say
Jan 17 2012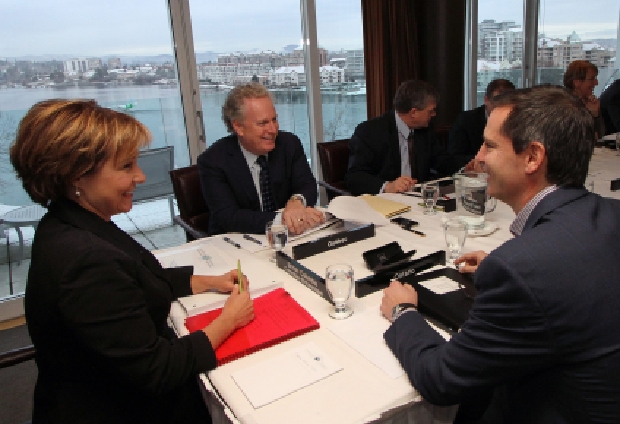 B.C. Premier Christy Clark, left, talks with Quebec Premier Jean Charest, on her left, and Ontario Premier Dalton McGuinty during the Council of the Federation meeting in Victoria on Jan. 16, 2012.
Photograph by:
Adrian Lam, timescolonist.com
British Columbia has the highest rate of residents in Canada who can't afford to take their drug prescriptions as directed, according to a study published in the Canadian Medical Association Journal Monday.
An analysis by University of B.C. and University of Toronto researchers shows one in 10 Canadians who received a prescription chose not to either fill it, or renew it, or skipped doses for cost reasons.
The highest rate of cost-related non-adherence was in B.C., at 17 per cent, compared with a low of 7.2 per cent in Quebec, the research says.
"If you look at the study, what it shows and argues for is a national [drug] plan, and the Stephen Harper government seems uninterested in that, as does [B.C. Premier] Christy Clark," B.C. NDP leader Adrian Dix said in an interview.
Based on data from 5,732 people who answered Statistics Canada's 2007 Canada Community Health Survey, people living in B.C. were more than twice as likely to report not being able to afford their prescription drugs as those living in other large provinces.
"This is cause for concern," Michael Law, assistant professor at UBC's school of population and public health, said in a statement.
The study reports the characteristics most associated with not filling a prescription because of cost are: Not having insurance coverage for prescription drugs; being in poor health; having a low household income; being younger than 65, and living in British Columbia.
The study shows the likelihood of not taking prescription drugs as directed due to cost range from 3.6 per cent among people with health insurance and high household incomes to 35.6 per cent among people with low household incomes and no insurance.
The study reflects the higher absolute levels of inequality in B.C. and demonstrates the need for reforms, Dix said. People in other provinces, including Quebec and Ontario, pay 40 per cent less for generic drugs than in B.C., which "makes absolutely no sense," Dix said.
"Shouldn't B.C. get the same deal as Quebec and Ontario?" Dix asked Monday. "Should our province be making patients pay, and sick people pay, more for prescription drugs in British Columbia?"
Multinational companies are making "outrageous profits" while middle-class and low-income people are struggling with costs dumped onto them, said Dix, whose party has cited the harmonized sales tax, higher Medical Services Plan premiums, B.C. Hydro rates and growing housing costs as examples.
The premiers now meeting in Victoria should consider expanding and improving public coverage for prescriptions, he said.
Prescription drugs fall outside of the Canada Health Act. Critics say that creates a patchwork of drug coverage that leaves two-thirds of Canadian households paying all or a portion of their prescription drug costs.
That's particularly true for those without drug insurance — with 26.5 per cent reporting they can't afford their prescription drugs.
"More than one in four Canadians without health insurance are forced, financially, to go without the prescription drugs they need," Law said.
"Of all the factors we found to be associated with cost-related non-adherence, insurance coverage is the most amenable to being addressed through changes in public policy," the report's authors conclude.
ceharnett@timescolonist.com
rfshaw@timescolonist.com
We thought you might also be interested in..