Some Sooke schools close mid-morning due to snow
Jan 18 2012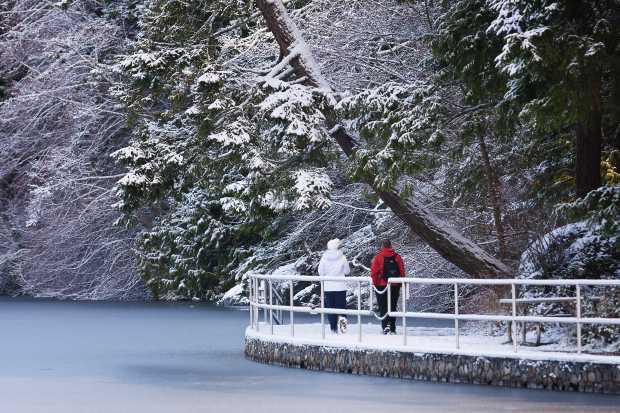 Walking in the snow at Thetis Lake on Jan. 17, 2012.
Photograph by:
Darren Stone, timescolonist.com
Schools in Greater Victoria started with their doors open Tuesday, but some Sooke district parents were told about 10:45 a.m. to pick up their children because of heavy snow and deteriorating road conditions.
Victoria took on an unstable airflow off the Pacific Ocean with downtown seeing most of the resulting snow that hit the area. Convection clouds moved across the southern portion of Vancouver Island, striking the provincial capital the hardest.
The snow was expected to clear throughout the afternoon Tuesday, but a system moving in from the south could reach Victoria on Wednesday.
"Being able to accurately pinpoint where the snow is going to fall heaviest is really challenging," said Matt MacDonald, meteorologist with Environment Canada. "We're seeing really localized bands of flurries right now."
Victoria International Airport, B.C. Ferries and float-plane companies were all running on schedule.
The school-closure advisory in the Sooke district included seven sites — John Muir, Poirier, Hans Helgesen, Sooke and Saseenos elementaries, Edward Milne Community School and Journey Middle School. The day began in the district with no morning schoolbuses due to unplowed roads in outlying areas, and the decision to also cancel afternoon service was made during the noon hour.
Schools were open in the Greater Victoria district, with the district website advising that roads and weather are assessed well before school begins on days when snow is expected.
The Saanich district had schools open and buses in operation.
The University of Victoria and Camosun College stayed open, as well. UVic has been closed due to weather only twice since it was founded in 1963.
Heavy snow felled trees across Metchosin Tuesday morning, blocking traffic on several roads. Metchosin volunteer firefighters responded to 10 cases of trees down across B.C. Hydro wires or over the road from 7-9 a.m., said Metchosin fire chief Stephanie Dunlop.
"The snow is so heavy on the trees and the branches, either the trees are breaking or they're leaning over the roadways, which is causing concern."
On East Sooke Road, a tree fell across a high-voltage line, closing the road for about half an hour around 9:30 a.m. There were also disruptions on Happy Valley Road and Rocky Point Road.
"We just want to encourage people when there is a tree or power line that is entangled or down, not to go near it," Dunlop said.
B.C. Hydro's Ted Olynyk said there were about 15 distinct spots where power outages hit, affecting about an estimated 1,400 households.
"Pretty much all of them are in Sooke and in particular the East Sooke area."
Saanich police traffic officers were busy responding to six weather-related incidents Tuesday morning, beginning at 5:45 a.m. when two cars slid off the Pat Bay highway at Royal Oak and a car and a tractor trailer crashed into each other at the Quadra off-ramp of the highway.
At 10:20 a.m., a car and a B.C. Transit bus hit at Ferndale and Gordon Head roads. No injuries were reported in the morning crashes.
The Malahat had wet and slippery conditions, mainly at the summit, while the Pat Bay Highway was mainly wet and slushy, with some snowy conditions in the Peninsula area. Some blue-box recycling pick-up was disrupted.
North and Central Island saw little snow overnight Monday. Some roads had slippery sections, but all traffic was reported to be moving smoothly Tuesday.
There will be little let-up from freezing temperatures and intermittent snow for the rest of the week.
"It's not so good," said Environment Canada forecaster Greg Pearce.
The next punch, starting Tuesday evening, is expected to drive temperatures down to minus-three Celsius, Pearce said.
The west coast of the Island and some inland areas will see temperatures of -7 C, he said.
"It's going to be pretty chilly by Island standards. Wednesday and Thursday there could be snow and it could be heavy, but we don't know the details yet.
"The good news is it's likely to be over by the weekend."
Victoria police are warning drivers to adjust their driving habits for slippery conditions.
"Slow down, maintain a safe following distance and accelerate and brake slowly," said spokesman Const. Mike Russell.
The police department gave a demonstration of winter driving Tuesday morning in the Royal Athletic Park parking lot.
City of Victoria public works staff put brine along major emergency and bus routes, as well as hills and bridges Monday.
Roads must be clear for crews to plow and vehicle owners are asked to park off-street. Anyone not complying faces fines of $150.
Jen Book, Victoria's extreme weather co-ordinator, said extra mats are available at the Native Friendship Centre in Saanich and the Salvation Army downtown.
About 35 spaces were unused Sunday night, she said, and two more shelters can be opened if demand increases.
"We have really made sure to get the word out to get as many people inside as want to come in," she said.
Some are already suffering from coughs and lung conditions, Book said.
"We have a couple of people with pneumonia and we're seeing other cold-related illnesses," she said.
We thought you might also be interested in..