Premiers set up group to assess financial impact of new federal funding formula
Jan 18 2012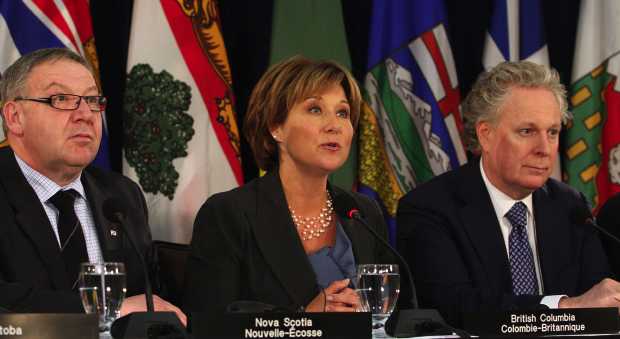 Nova Scotia Premier Darrell Dexter, B.C. Premier Christy Clark and Quebec Premier Jean Charest address the media during the Council of the Federation meeting at the Laurel Point Inn in Victoria on Jan. 17, 2012.
Photograph by:
Adrian Lam, timescolonist.com
Canada's premiers have set up a second working group to assess the financial implications of a 10-year health-care funding formula that the federal government shoved at the provinces, without discussion, in December.
The country's premiers emerged Tuesday from the final day of a three-day meeting in Victoria with two working groups committed to lead in innovation and ensure comparable health-care systems across the country, while leaving the door open to negotiate a new funding formula, possibly come election time.
The first group, the Health Care Innovation Working Group, led by Prince Edward island Premier Robert Ghiz and Brad Wall of Saskatchewan, is tasked with driving innovation in health care and delving into key areas of Medicare for ways to innovate, improve patient care and save money.
The second group, to be led by Manitoba Premier Greg Selinger, will lead a group of provincial and territorial finance ministers who will "assess the fiscal impact of the current federal fiscal proposals."
"Our jurisdictions are impacted, all of us, in different ways by these proposals and we're committed to working together to make sure no jurisdiction is worse off," said B.C. Premier Christy Clark, who is hosting the Council of the Federation meeting.
The finance ministers, led by Selinger, will crunch the numbers on what Prime Minister Stephen Harper has suggested is a non-negotiable offer to increase the health accord transfer at the current annual rate of six per cent until 2016-17. From then on, funding increases will be linked to economic growth including inflation, expected to hover around four per cent.
The federal government also introduced a per-capita funding formula, which, Clark said Friday, would hurt seniors care. But on Tuesday, premiers tried to present a unified front, saying they recognize that the Canada Health Transfer will move to an equal per-capita cash transfer. However, they said the result must be consistent with the constitutional principle that every province and territory must be able to provide its citizens with reasonably comparable levels of public services at reasonably comparable levels of taxation.
Quebec Premier Jean Charest maintained his stance from Monday that the premiers still have two years, until 2014-15 when the federal health-accord expires, to negotiate a better deal. He continued to express exasperation and disbelief that the federal government will not negotiate its funding formula with the provinces and territories.
The working groups will report back to the premiers when they meet at the Council of the Federation annual meeting in Halifax in July.
ceharnett@timescolonist.com
We thought you might also be interested in..