Abbott rejects 15 per cent pay hike for teachers
Jan 18 2012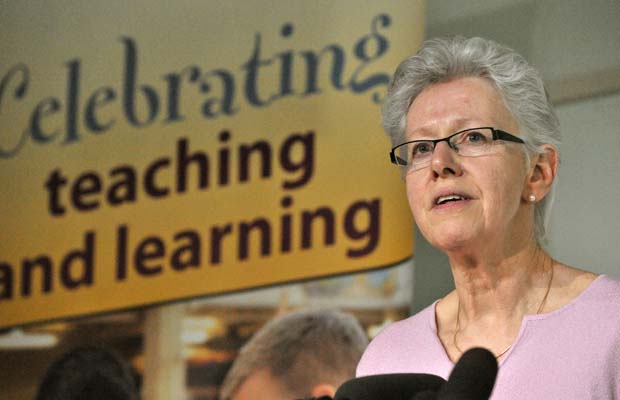 BCTF president Susan Lambert tabled a new bargaining position Tuesday which calls for a 15 per cent pay hike for teachers over three years.
Photograph by:
PNG files, ....
A contract dispute between public school teachers and the B.C. government worsened Tuesday with Education Minister George Abbott dismissing union demands for a 15 per cent pay hike over three years.
The B.C. Teachers' Federation outlined its salary proposal for the first time in what it called a "pared-down" bargaining package.
The union said it dropped or reduced a number of other demands in an effort to end a deadlock at the bargaining table. Cost of the deal was pegged at $300 million in the first year, with an additional $130 million in each subsequent year.
"Today, we're making a significant move — a move towards the kind of compromise we know is necessary for successful negotiations," union president Susan Lambert said.
But Abbott said the proposal flies in the face of the provincial government's "net-zero mandate," which dictates that public sector employees can negotiate a wage increase only if they find matching savings elsewhere in their contracts.
"This proposal is much too distant from net-zero to be workable as a proposal in itself," Abbott told reporters.
He noted that the two sides have made little progress since beginning talks on March 1, 2011.
"Nothing that I've seen today makes me more optimistic about the possibility for a successful conclusion."
The union insists there will be no deal unless the B.C. government backs off net-zero. Lambert said the mandate amounts to a pay cut for teachers, who already lag behind their counterparts in Alberta and Ontario. The BCTF said average teacher salaries range from a minimum of $47,500 to a maximum of about $74,000.
The union wants a three per cent cost-of-living increase in each of the three years, plus three per cent market adjustments in the second and third years as well as improvements to benefits.
"It won't get us anywhere near close to the salaries of teachers across the country," Lambert said. "But it might help us start inching our way closer."
Lambert acknowledged that the $300-million cost of the union's bargaining proposal is substantial. But she urged the public to consider the crucial work that teachers do across the province in the face of ongoing cuts to education.
"It's been a decade of struggling to do more with less," she said. "We've seen schools close, libraries close, thousands fewer teachers, services to students cut to the bone — it's got to stop!"
The teachers have been without a contract since last June. They began job action in September, refusing to meet with administrators, supervise playgrounds or prepare report cards.
Abbott said it was premature to say whether the B.C. government will bring in legislation to end the dispute. But he made it clear that he does not want to go through an entire school year without students receiving a report card.
"This is not a dispute which I believe will be endless," he said. "We need to balance our obligations to be fair and open and transparent and thoughtful in our collective bargaining discussions, but we have to have a school system that works for students as well."
lkines@timescolonist.com
We thought you might also be interested in..