Premiers unveil go-it-alone health-care plan
Jan 18 2012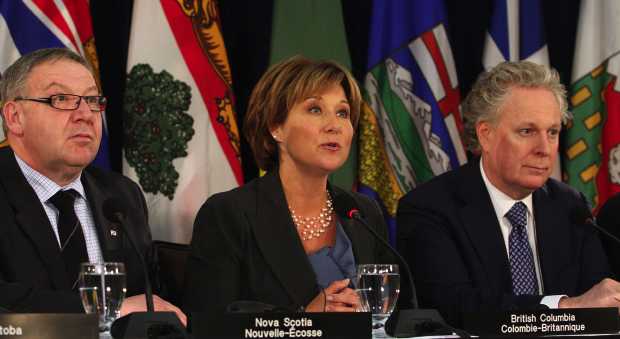 Nova Scotia Premier Darrell Dexter, B.C. Premier Christy Clark and Quebec Premier Jean Charest address the media during the Council of the Federation meeting at the Laurel Point Inn in Victoria on Jan. 17, 2012.
Photograph by:
Adrian Lam, timescolonist.com
Canada's premiers said Tuesday they will find ways to save money and improve health care without Ottawa's help.
The leaders of 13 provincial and territorial governments ended a conference in Victoria by launching two "working groups" — one focused on the cost of Ottawa's new health-care funding formula and the other on finding innovative ways to deliver care to the sick and elderly.
The premiers remain angry with Prime Minister Stephen Harper for shoving upon them a new 10-year health care accord last month and then refusing to negotiate or discuss the significant funding changes contained within the deal.
They warned Harper Tuesday that his Conservative government heads to the polls in three years, and his health care policies could remain a top issue for voters.
"As you get closer to 2015, which is an election year, health care will always remain the number one priority of Canadians," said Prince Edward Island Premier Robert Ghiz.
"The federal government is going to have to wake up and realize that health care is something they should be listening to the provinces on and I think, hopefully, we'll see a change of attitude."
Quebec Premier Jean Charest said the provincial working groups will accomplish the kind of consultation and research Ottawa should have carried out before it imposed its deal on the provinces.
Ghiz and Saskatchewan Premier Brad Wall will co-chair the working group on health care innovation. It is tasked with looking at how provinces are already innovating in medicare, and attempting to clone ideas for other provinces to save money and improve patient care.
Wall pointed to an example in Saskatchewan, which has reduced surgical wait times by as much as 83 per cent by booking procedures in private clinics, covered by the public health-care system. He acknowledged the controversy of private clinics, but said: "Given a choice between ideology and surgery, people in pain will pick surgery."
B.C. NDP leader Adrian Dix said that is not something he would support as premier. "The innovation that's been successful in British Columbia has been innovation in the public system," he said.
"The overall impact of promoting private clinics is they increase costs. That's the experience. Yes they are spending more money, and reducing wait times by spending more money, but that's not the innovation we're talking about. That's not the innovation people are looking for at this time."
The second working group, chaired by Manitoba Premier Greg Selinger, will lead provincial and territorial finance ministers through a fiscal assessment of Harper's new health accord, which increases annual federal health transfers by six per cent until 2016-17 and then links them to economic growth plus inflation (currently around four per cent).
The federal deal also includes a new per capita funding formula for federal health money, which benefits some provinces — Alberta gains $1 billion — but hurts others who have higher populations of senior citizens. B.C. stands to lose roughly $250 million under the deal in 2014-15 and has asked Ottawa to alter the formula to compensate for aging demographics.
Harper has said the premiers should stop talking about the funding formula and focus on reforming the system because he does not intend to spend any more money.
"All of us believe it is possible to come up with a fiscal arrangement that leaves no one worse off than they currently are," said B.C. Premier Christy Clark.
The working groups will report back to the premiers at the Council of the Federation meeting in Halifax in July.
ceharnett@timescolonist.com
rshaw@timescolonist.com
We thought you might also be interested in..