Wintry blast turns Greater Victoria roads into rivers of ice
Jan 18 2012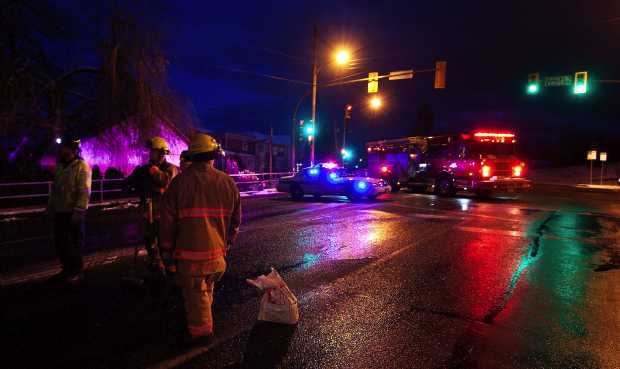 Emergecy crews shut down Carey Road after a Jeep hit a power pole on icy roads in Victoria on Tuesday Jan. 17, 2012.
Photograph by:
Darren Stone, timescolonist.com
Plummeting temperatures turned Greater Victoria streets into skating rinks Tuesday evening, leading to a rash of collisions during rush hour.
Glanford Avenue by Carey Road was closed by Saanich police after several crashes, including a car that slipped off the road and sheared off a power pole.
"Road conditions are treacherous, with severe icing conditions," Saanich police said in a news release.
Accidents were reported around Fairfield Road and on the Trans-Canada Highway near Thetis Lake.
There were two crashes at Burnside and Prospect Lake roads. Minor injuries were reported in those accidents.
Police warned drivers throughout the region to slow down and keep their distance.
Earlier in the day, Saanich police were busy responding to six weather-related incidents, beginning at 5:45 a.m. when two cars slid off the Pat Bay Highway at Royal Oak Drive and a car and a tractor-trailer collided at the Quadra Street off-ramp.
At 10:20 a.m., a car and a B.C. Transit bus collided at Ferndale and Gordon Head roads. No injuries were reported.
By early evening, almost 1,300 homes on southern Vancouver Island remained without power and most were expected to be out until 8 a.m. today.
Most of the outages were the result of heavy snow and fallen trees damaging transmission lines.
Heavy snow felled trees across Metchosin Tuesday morning, blocking traffic on several roads. Metchosin volunteer firefighters responded to 10 cases of trees down across B.C. Hydro wires or over the road from 7 to 9 a.m., said Metchosin fire chief Stephanie Dunlop.
On East Sooke Road, a tree fell across a high-
voltage line about 9:30 a.m., closing the road for about half an hour. There were also disruptions on Happy Valley Road and Rocky Point Road.
"We just want to encourage people when there is a tree or power line that is entangled or down, not to go near it," Dunlop said.
B.C. Hydro's Ted Olynyk said there were about 15 outages as a result. "Pretty much all of them are in Sooke and, in particular, the East Sooke area," he said.
Little relief from the cold and snow is expected until Friday.
"Being able to accurately pinpoint where the snow is going to fall heaviest is really challenging," said Matt MacDonald, meteorologist with Environment Canada. "We're seeing really localized bands of flurries right now."
Environment Canada is calling for five centimetres of snow today with a high of between -1 and -4, dipping to -6 at night.
Flurries continue Thursday with a high between 1 and - 1. The cold snap is expected to ease Friday, with a high of 8.
Students should check school district websites or listen to local radio stations after 6:30 a.m. today to find out whether their schools are open and school buses running.
At Rock Bay Landing shelter, people hoping for mats on the floor arrived early Tuesday afternoon, some bringing their pets with them.
Cy Manuel and his 10-year-old pitbull/rottweiler-cross Angel came to the shelter as falling temperatures made living on a sailboat in Esquimalt Harbour too uncomfortable.
Manuel prefers a sleeping mat to a bed at the shelter. "I don't want [Angel] in a kennel. I can't lose my dog," he said.
But that means he does not get meals at Rock Bay.
"I'm just eating out of cans," he said.
Cecilia Haug is in the shelter with her cats, 15-year-old Maggie and 12-year-old Olivia, after a family argument left her no options except the street or shelter. "I was on the mats but because of my arthritis, they got me a bed," she said.
jlavoie@timescolonist.com
dspalding@timescolonist.com
jbell@timescolonist.com
We thought you might also be interested in..