Snow inspires a hive of activities in Greater Victoria
Jan 19 2012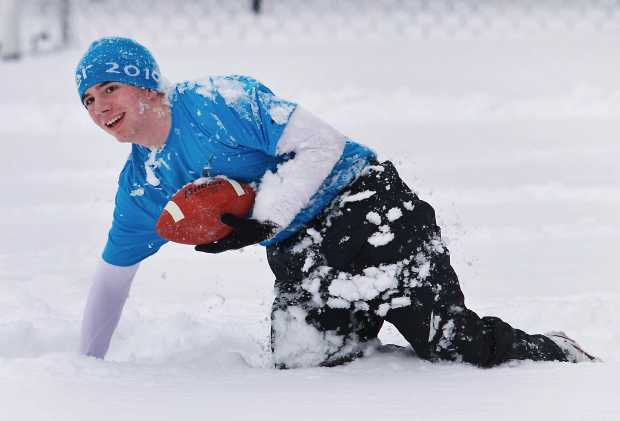 Claremont High School student Tyler Swinton plays football at Lochside Park on Wednesday Jan. 18, 2012.
Photograph by:
Darren Stone, timescolonist.com
Tyler Swinton shook handfuls of snow from behind the waistband of his splash pants after diving into a field of shin-deep snow to catch a frozen football at Lochside Park in Saanich.
Frozen football was just one game of choice Wednesday, as Victoria's first snowstorm of the season brought out the region's more adventurous crowds. From the West Shore to the Saanich Peninsula, people were decking goalies in road hockey games, rally racing in parking lots and snowboarding on golf courses.
The heavy dump and sub-zero temperatures made for dangerous road conditions, but with schools closed for the day and many people home from work, there were plenty of reasons for heading outdoors.
Swinton barely needed an excuse to dive into the snow. Being on the receiving end of a slightly out-of-reach pass was enough to send him leaping for the catch.
He and about 10 friends set up a Blackberry Messenger group to spread the word about a full-contact game of football in the snow and cold.
They scraped a shovel- width perimeter in the snow, creating two end zones. The game was on.
"We got our quarterback," said one of Swinton's friends after he launched a long, high pass right on target. "Way to go, QB."
At the bottom of the road leading into Beaver Lake Park, the powdery snow whirled in the air with the sound of revved-up engines carrying through trees. Two black pickup trucks raced around in the parking lot.
Beaver Lake is a favourite spot for Mike McArthur, who was out with a few of his friends Wednesday morning plowing through snow in their pickups.
McArthur, a Saanich resident and construction worker, would not pass up on the rare opportunity to race around in the snow, especially when he had a day off.
"They don't want us on the scaffolding, so we're not working, it's perfect. It's a snow day," he said.
"I'm just loving this, it's too much fun. It's slow-motion rally racing really because you just drift so slowly."
As many as 30 kids carved up the hill near the Colwood municipal hall with toboggans and sleds.
Jeremy Smith climbed a nearby knoll and jumped back down face-first, crashing his plastic sleigh at the bottom with a spray of powdery snow.
Ten-year-old Jeremy had put off his morning paper route in favour of some rare toboggan time.
"From my bedroom window, it didn't look like much snow when I got up and thought I'd have to go to school," he said.
But as soon as he heard classes were cancelled? "Then it was joy," he said with a smile.
Nearby, Mason Crougher, seven, skidded to a stop at the bottom of the hill and said his snow-day to-do list included a snowball fight, igloo construction and a trip to the Juan de Fuca Recreation Centre to try out tobogganing there.
The hills behind the recreation centre were one of the most popular destinations of the day, with dozens of sledders on the slopes. One group even set up a gas burner on the trunk of their car to cook hotdogs.
Nick Summers and Nathan Bird used the snow-packed surface of their Kildew Road neighbourhood in Colwood to try a game of road hockey with a plastic puck.
The puck slid smoothly, even if the players didn't.
Bird, 19, launched into his breakaway attempts at full sprint, only to find himself sliding and falling every time he tried to deke his way past Summers in the net.
On one particular spinorama attempt, Bird bailed into the snowbank on the side of the street.
Despite his scoreless streak — which he conveniently blamed on the slick conditions — Bird said using a puck in the snow was more interesting than a regular hockey ball on a dry road.
"It is way more fun playing in the snow for sure."
dspalding@timescolonist.com
rshaw@timescolonist.com
We thought you might also be interested in..