Schools open, buses running, most roads clear
Jan 19 2012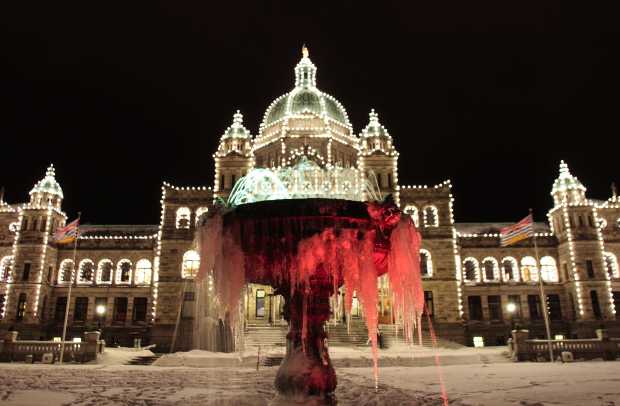 The fountain on the grounds of the Legislature is frozen on Wednesday Jan. 18, 2012.
Photograph by:
Lyle Stafford, timescolonist.com
A day after a heavy snowfall that shut down parts of Victoria, all schools are open, roads are clear, and all bus routes are running this morning.
Greater Victoria, Saanich and Sooke school district schools are open this morning, but all are cautioning parents to bundle children up for below freezing temperatures.
At the Hartland weather station in Saanich, it was -5 C this morning, but Environment Canada says with the wind chill it will feel like -16 C.
In Greater Victoria, Thirdwave buses are running on snow routes only today while Garden City buses are running on all routes "with some expected delays."
"Please make sure that you dress your children warmly for the inclement and severe weather," says the Greater Victoria school district.
"All Saanich schools are open today, and buses are running at regularly scheduled times but may be delayed," says Saanich school district.
The Sooke school district says "most roads have been plowed and salted," but buses may be running later than usual due to road conditions and there have been some bus route changes:
— Chappel Heights and Duke Road: students need to safely make their way to Metchosin Road
— Sun River: students need to safely make their way to the subdivision entrance
— Otter Point Road: Routes 11 and 24 will run, but buses cannot make it up side roads, and students should make their way to Otter Point Road.
All routes including HandyDART services for people with disabilities are in service today, according to Maureen Sheehan, spokeswoman for B.C. Transit. However, "expect some delays due to road conditions," she said.
Saanich police have had no reported vehicle accidents since 5:30 a.m., said Staff Sgt. Andy Walsh.
"All the major roads are clear and dry with some side roads snow-covered," said Walsh. "Most roads passable."
Victoria Fire Department says it has had no major incidents yesterday or this morning related to the extreme cold.
Victoria Const. Mike Russell said main roads are in good travelling condition but side streets are still slick.
"Give lots of time to stop when coming from a side street to a main road as you dont want to slide into the intersections," Russell said.
Also, as the temperature plunges during the day and with snow in the forecast, the roads may get icy again, so motorists need to be aware and use caution, Russell said.
ceharnett@timescolinist.com
We thought you might also be interested in..