Families helped by Jeneece's birthday gift
Jan 20 2012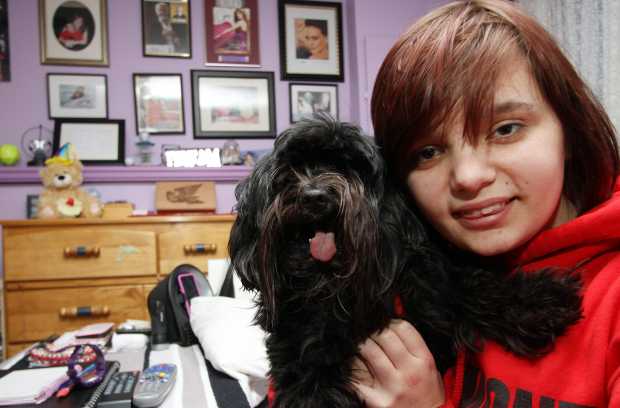 Jeneece Edroff at her home in Victoria with her dog, Sir Penny, named for Jeneece's successful fundraising penny drives.
Photograph by:
Adrian Lam, timescolonist.com
Jeneece Edroff has something big to unwrap Saturday, in celebration of her 18th birthday.
That's when the ribbon will be cut and the doors opened at the aptly named Jeneece Place, which has been built as much from her drive and determination as wood, concrete and drywall.
"It will be a combination of an opening and a 'Happy Birthday' to Jeneece," said her mother, Angie.
Snowy weather this week led to the postponement of the opening from today.
Ground was broken on the $5.5-million, 10,500-square-foot "home away from home" last April.
It will provide out-of-town families a comfortable place to stay when their children are being treated at adjacent Victoria General Hospital, as well as at the Queen Alexandra Centre for Children's Health and other local sites.
VGH is a centre for specialized pediatric care, so a steady stream of young patients — from babies to teenagers — head there from all over Vancouver Island for treatment. But parents and other family members often have to scramble for a place to stay.
That's where Jeneece Place comes in. With 10 bedrooms — each designed for up to two adults and two children — a communal kitchen, laundry room, games room and outdoor play area, it can make life a lot easier for a family with a child in hospital. The cost will be just $25 a night and provision can be made for guests with limited means.
More than 600 families a year could benefit from the facility, including families from the capital region stressed by multiple trips to the hospital. Pregnant women from the central and north Island who need to be close to medical help will also have a place to stay.
The facility is set to start welcoming guests on Monday.
"The really comforting thing with Jeneece Place is that when you're looking out the window, you can see the hospital," Angie said.
Most similar facilities are much farther removed from hospitals, she said, but VGH is just a few minutes' walk from Jeneece Place.
"People who don't go through this won't understand it, but people who are living the nightmares will really, really appreciate it that they're just a heartbeat away from the hospital. If something goes wrong, they're right there, and that also means when they're at the residence they can really let down their guard and relax."
Jeneece, who lives near the hospital, said the VGH-bound medical helicopters she often sees flying over her home remind her of the purpose of Jeneece Place. "I always think it could mean another family needs a place to stay."
Jeneece came up with the idea to establish a family facility near VGH because of the hospitality her own family has enjoyed at Vancouver's Ronald McDonald House during her frequent trips to B.C. Children's Hospital, where she receives specialized treatment for a genetic disorder known as neurofibromatosis, or NF.
The disease causes painful tumours on nerve pathways. Jeneece has had more than a dozen operations and numerous chemotherapy sessions since the disorder was diagnosed, when she was three.
By the time she was seven, Jeneece had launched the fundraising pursuits that would make her a familiar face around the capital region.
She started with a school fundraiser to collect pennies and ended up with $164 that she gave to Variety — The Children's Charity. The organization had helped her family with some of the expenses that came with her condition, Jeneece said. "I wanted to help them back."
The help didn't stop there — Jeneece's penny drives became a fixture in Victoria. Eight years later, they had generated more than anyone could have expected, a phenomenal $1.5 million for Variety.
The names of the two dogs in the Edroff home reflect that fundraising accomplishment. One is Variety, the other Sir Penny.
In 2010, her philanthropy and community-mindedness earned hard-working Jeneece, by then a student at Claremont Secondary School, the Order of British Columbia. It was another in a long list of awards that includes induction into the Terry Fox Hall of Fame at the age of 12.
She even got to light the Vancouver 2010 Winter Olympics cauldron at the legislature, following a turn carrying the Olympic torch.
"That was amazing," Jeneece said.
Her role has made Jeneece something of a celebrity. "[People] give me hugs, kisses, whatever," Jeneece said, adding with a laugh: "I seriously think I should be getting a bodyguard soon."
Once, when she was seven and walking home with her nine-year-old brother, Nick, a woman driving by abruptly stopped her car in the middle of the road and opened her door.
"She says, 'Can I give you a hug?' and my brother thought she was going to pull me in the car and take me away."
Considering the fundraising Jeneece already has behind her, the success of the Jeneece Place project comes as little surprise. The project gained momentum in June 2010, when the Vancouver Island Health Authority donated a $400,000 piece of land bordering VGH.
"That was a huge impetus," said chief executive officer Ron Hewitt of the Queen Alexandra Foundation for Children, which by then was on board with the fundraising drive.
The land donation came just before the Telus World Skins Game at Bear Mountain Golf Course, which generated $1.15 million for Jeneece Place.
Mel Cooper, chairman of the Telus Victoria Community Board and co-chairman of the Jeneece Place Fundraising Committee, said the project was buoyed by two more large donations about six months after the Telus World Skins Game. The Norgaard Foundation — named for late businessman Kaare Norgaard — gave $1 million and the Queen Alexandra Foundation matched it with $1 million from its endowment.
The Queen Alexandra contribution was designated to cover the ongoing operation of Jeneece Place, which will be co-ordinated by Beacon Community Services.
"From then on, the amazing thing is how people have embraced this whole idea," Hewitt said. "One of the themes for me is the community coming together on this, because we've had close to a million dollars of in-kind donations from suppliers and contractors.
"The number of people who have donated their services and their goods is amazing, let alone the kids at lemonade stands and with birthday money coming through the door."
Jeneece has been the inspiration for all of the generosity, Hewitt said.
"This is her idea and her dream, and people in this community and elsewhere have banded together and said, 'We're going to help Jeneece with this.' I think Jeneece talking about her personal experience has inspired a lot of people that way."
Hewitt said Jeneece is always positive, and never complains about the pain her condition can cause.
"She just keeps on going. She has a strong spirit."
As for Jeneece, she has no plans to retire from fundraising. In fact, she intends to announce her next project at Saturday's Jeneece Place opening.
"Fundraising and helping people is just something I like doing, it's just something that I've done it since I was young. I just can't stop doing it."
All she would say about her upcoming plans is that they will be "pretty big" and involve VGH. Another Jeneece Place, maybe in Nanaimo, is a possibility in the future, she said. And the prospects don't stop there.
"First get B.C. and then get Canada," said Jeneece, who had a hand in the new facility's layout and design, which meant meeting with architect and former Victoria mayor Alan Lowe.
Jeneece's condition has sometimes curtailed her physical activities, but she maintains a busy schedule and is spending part of her Grade 12 year as manager of the Claremont Secondary girls' basketball team.
"I help out with the stats, but I'm now on Band-Aid and injury duty," she said, chuckling.
Actually playing basketball would be too much for Jeneece's back, Angie said.
"When she was younger, most of her issues were with her spine. She has tumours on every nerve root coming out of the spine, and they were pushing her spine into a curve."
On top of that, Angie said, the vertebrae were compromised and became like "eggshells."
"For eight years, all the surgeries were to stabilize the spine. Now that she's stopped growing, the spine is kind of under control."
Because of the extent of the early onset of Jeneece's condition, Angie said, doctors believe she will be among the five per cent of people with NF who develop tumours that can become malignant.
Jeneece and Angie were at B.C. Children's Hospital again last week to have more tumours checked, but from there, Jeneece caught up with the basketball team at a tournament in Coquitlam.
After high school, helping out at Jeneece Place will be one of her priorities, said the teen.
"And hopefully I'll start my own photography business. I love photography and I love motivational speaking."
Jeneece has spoken at huge occasions in front of all sorts of VIPs, and nothing seems to faze her. When it comes to young people, she has a simple message.
"Whenever I do speeches to elementary- or middle-school kids, or even sometimes high-school kids, I just say I was in Grade 1, I started and never stopped. I was a kid, and you might think kids don't do anything, but one kid can make a change."
Public tours of Jeneece Place will be available Sunday from noon to 4 p.m. To donate to the project, go to queenalexandra.org/donate or call 250-519-6955.
jwbell@timescolonist.com
We thought you might also be interested in..