Mild weather forecast for the weekend after one more wintry blast Friday
Jan 20 2012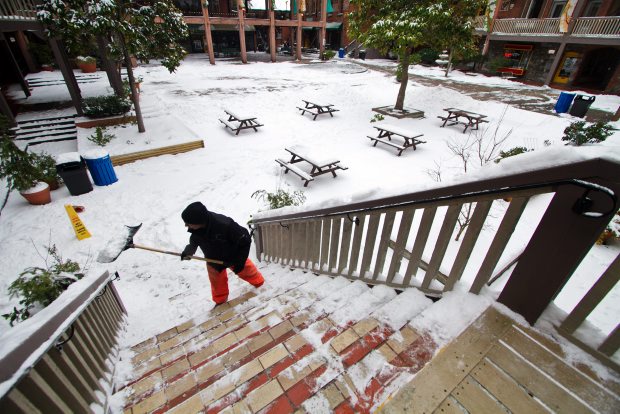 Rick Bailey shovels snow from stairways Thursday in Market Square in Victoria.
Photograph by:
Darren Stone, timescolonist.com
Victoria's traditionally milder seasonal climes should return by the weekend after winter heaves one more blast this morning.
"Periods of snow mixed with freezing rain changing to rain near noon" are forecast by Environment Canada.
It was -2 C this morning at Victoria's Hartland weather monitoring station. Later in the day the temperature is expected to climb to a high of 6 C but with that will be high winds becoming southeast, whipping up to 50 to 70 km/h this afternoon.
"There's a chance of some freezing rain in Victoria, but we don't expect it to last very long," said Environment Canada meteorologist David Jones.
That freezing rain has already begun in Nanaimo, according to Nanaimo RCMP.
The predicted snowfall this morning has been downgraded to 2 cm from 5 cm. Then there will be a messy transition as snow turns to freezing rain turns to rain, Jones said. "It will turn over pretty quick."
Environment Canada meteorologist Matt MacDonald said to expect a "smorgasbord of precipitation" on Friday.
December was unusually warm and dry and possibly lulled people into thinking the fall-like temperatures would remain, MacDonald said.
"I think, very simply, winter has arrived, and we were just lucky to get through December as we did," MacDonald said.
Jones said warmer temperatures, with a high of 7 C, would be here for the weekend. It is impossible to say whether there will be more snowstorms in January, he said.
"It's winter. It happens," Jones said. "We don't see it in the next seven to 10 days, but that's about all we can tell you."
Despite the unusual weather, Saanich Police Staff Sgt. Andy Walsh said there's nothing remarkable to report regarding weather-related motor vehicle crashes this morning: "There's nothing bad at all," he said.
Victoria city crews will continue to clear snow Friday — with an emphasis on residential roads, on-street parking spaces and downtown transit stops. They have also begun clearing ice and snow from storm grates to prevent flooding.
The city has asked property owners to do their part by clearing their sidewalks. It also reminded motorists to remove their vehicles from residential streets.
Recycling pickups throughout the capital region have been delayed by the snow.
The blue-box recycling program was disrupted throughout much of Victoria and Saanich on Thursday. Although trucks were out on the road collecting, many residential areas with poor road conditions were not serviced.
If recyclables were not collected, residents are advised to hold onto them until the next scheduled collection day.
Municipal garbage pickup was cancelled in Victoria Thursday and may be cancelled again Friday depending on the roads, said Katie Josephson, the city's director of communication.
Those who do not have their garbage collected are allowed to have double the usual one can on the next scheduled pickup day.
In Saanich, the garbage truck tires were chained and collectors wore cleats on their shoes.
About 85 per cent of the collecting was completed on Wednesday and Thursday, Mayor Frank Leonard said. Staff will try to play catch-up using smaller trucks Friday.
The public works yard has had five plow and salt trucks running around the clock, David McAra, acting public works manager, said. That continues Friday.
Saanich plans to "shift gears" on the weekend to clear catch basins and drains for melting snow, McAra added.
In Oak Bay, garbage collection remains on schedule, said Mayor Nils Jensen.
Esquimalt garbage collection fell behind on Wednesday and Thursday, but is expected to catch Friday.
Mail delivery was back to normal Thursday, Canada Post said.
"We've had no reports of any delays today," said spokesman John Caines. Delivery was minimal Wednesday.
Carriers are equipped with gloves, boots, parkas and ice cleats to deal with slippery streets. Icy rain expected some time Friday may mean delivery is put off.
"Our health and safety committee will make that call in the morning," Caines said.
B.C. Transit reported all routes are at regular service levels with the possibility of some delays due to road conditions.
Despite the snow, the city advises Victoria on-street parking rates are in effect.
Parking tickets issued downtown on Wednesday have been cancelled. To check, call 250-361-0260.
ceharnett@timescolonist.com
kwestad@timescolonist.com
— with files from Rob Shaw
We thought you might also be interested in..