Birthday girl Jeneece meets premier
Jan 21 2012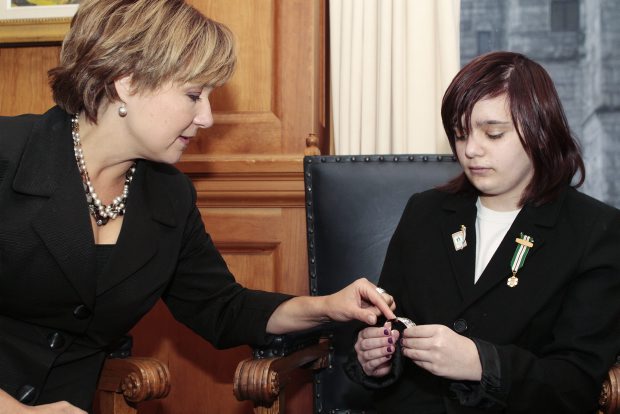 Christy Clark watches as Jeneece Edroff tries on the bracelet she was given for her 18th birthday Friday.
Photograph by:
Lyle Stafford, timescolonist.com
Fundraising dynamo Jeneece Edroff spent part of her 18th birthday Friday celebrating with Premier Christy Clark.
The premier invited Edroff and her family to the legislature where Clark had a gift to present — a silver First Nations bracelet and congratulations on behalf of the province.
"I hope you'll wear that and think of how proud every British Columbian is of you," Clark said.
"That's amazing," Edroff said of the bracelet. "So beautiful."
It is particularly special, Edroff said, because she already has her own First Nations name that translates into "Shining Star."
Edroff plans to cut the ribbon and officially open Jeneece Place today. Due to a wind warning, the celebration will take place in the cafeteria at Victoria General Hospital at 2 p.m.
The $5.5 million "home away from home" will give out-of-town families a place to stay when their children are being treated at Victoria General Hospital and other local facilities.
Edroff has raised funds and pushed for the development for years, after using a similar facility in Vancouver where she frequently receives specialized treatment for a genetic disorder known as neurofibromatosis.
"The realization of a dream you been working on for years is amazing," Clark said. "It's going to make such a difference for people. You must be so proud."
Clark accepted an invitation to tour the building in the future.
"I wasn't expecting to be called down here on my birthday. It was pretty amazing," Edroff said after her half-hour meeting with the premier. "I've met her a few times, but it was pretty cool to actually have a long time with her without the press coming in and swarming her or having other people come in."
Public tours of Jeneece Place are taking place on Sunday, from noon to 4 p.m.
We thought you might also be interested in..
Notice
: Undefined index: event in
/home/viccity/public_html/v2/content.php
on line
67