One year ago, Duncan teen's violent end left family at a 'standstill'
Jan 21 2012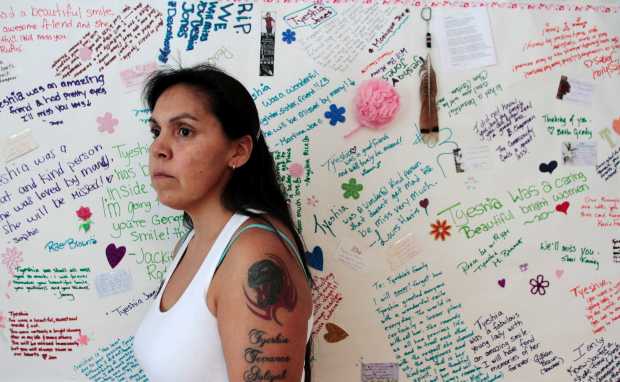 Mary Jim, the mother of 18-year-old Tyeshia Jones who was killed a year ago, stands in front of a wall of well wishes from Jones's friends.
Photograph by:
Lyle Stafford, timescolonist.com
Pictures of Tyeshia Jones fill her mother's home, from baby pictures to her 18th birthday. They are snapshots of a happy life that ended violently one year ago.
The vibrant 18-year-old from Duncan was killed Jan. 22, 2011, her naked body found six days later in a wooded area near a cemetery on Indian Road.
Jones had been at a party at a home on the Cowichan reserve earlier that night, and walked off alone to meet friends. What happened to her in the last hours of her life — and why — remains part of an ongoing police investigation.
Mary Jim said that every day since her daughter's death has been painful, as she's tugged between sadness and anger.
"I try to get by every day and it's not easy," she said. "It's like we're at a standstill and everyone is moving on."
Homicide investigators continue to work on the case. They're confident they will arrest those responsible, said RCMP Cpl. Darren Lagan, spokesman for Vancouver Island district. "Investigators assure the community that they are doing everything they can to solve Tyeshia's murder and will not rest until they do," Lagan said.
Police have never disclosed the cause of death.
Jones was with friends at a party on Miller Road on the First Nations reserve the night of
Jan. 21. At about 3 the next morning, Jones left and headed for a Superstore near the Trans-Canada Highway to meet a male friend, 22-year-old Josh Miller, son of former Cowichan Tribes chief Lydia Hwitsum.
Jones never made it there. Jim spent hours calling and texting her daughter, asking where she was and if she was OK. With no response, Jim filed a missing-person report with Duncan-North Cowichan RCMP at noon Jan. 22.
Jones's cellphone was found outside the Yuthuythut Adult Learning Centre, between Miller Road and Superstore. After an exhaustive search by police and search-and-rescue volunteers, her body was found near the Shaker cemetery on Jan. 28.
"I try and think, how could they do this and put my daughter right by a tree with no clothing, no belongings by a cemetery?" Jim said.
Duncan Coun. Joe Thorne has said the remote area is one only locals would know.
Jim found out later that Jones may have had a fight with someone at the party, which is why she left.
Jim still harbours anger toward some of Jones's friends, who she believe have not been forthcoming with information.
"I know someone knows something in the community, but they've got to speak," Jim said. "I just want the ones who did this to my daughter just to come forward and put this to rest."
Jim said the family copes by remembering happy times — the sound of Jones's laugh or her eagerness to make up and apologize after even the smallest fights with her mom.
Ambitious and creative, Jones had graduated from high school and was planning to go to college. Jim said Jones's three younger siblings, Terrance, 18, Aaliyah, 16, and six-year-old Latrell, do everything with the goal of making their older sister proud.
"My whole house is filled with her pictures, from newborn to her last birthday," Jim said.
The walls are papered with multi-coloured messages from Jones's friends, cousins and loved ones, mourning the loss.
On Nov. 19, when Jones should have been celebrating her 19th birthday, Jim and her three kids let balloons float to the sky.
Jim said she will spend Sunday, the one-year anniversary of Jones's death, with family and friends. They will lay flowers on her grave at the cemetery at St. Ann's Church and share stories of the active teenager taken too soon.
kderosa@timescolonist.com
We thought you might also be interested in..