Number of norovirus victims jumps to 165
Jan 21 2012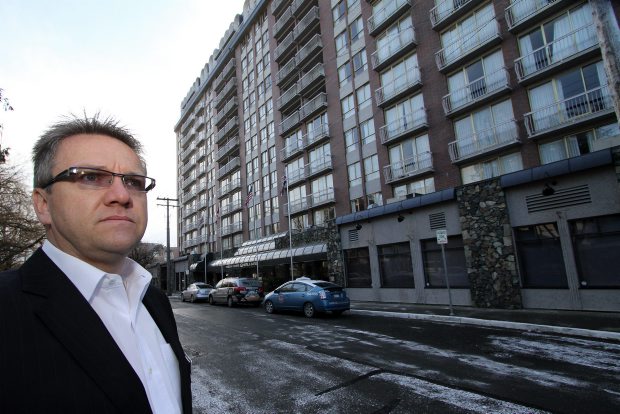 Ian Jones outside the Harbour Towers last weekend. (Jan. 15, 2012)
Photograph by:
Adrian Lam, timescolonist.com
The number of victims of a suspected norovirus outbreak at a Victoria hotel last weekend has climbed to 165.
Health officials say the toll is unusually high for the fast-spreading, painful illness.
So far, 147 delegates are believed to have contracted the virus that struck fast on Jan. 14, during the final night of a four-day university journalism conference at the Harbour Towers Hotel and Suites, and the final tally has yet to come.
The latest estimate nearly doubles the count on Monday, when the last of the delegates returned home to cities across the country. More than one- third of the 370 delegates attending the Canadian University Press national conference went down with severe nausea, vomiting and diarrhea.
Eighteen hotel staff also contracted the virus about 24 hours after the first few students showed symptoms, according to hotel management.
"That's a really significant outbreak," said Dr. Murray Fyfe, chief medical health officer for the Vancouver Island Health Authority. "And the fact that we had people who were perfectly well and then became ill after coming into contact with others or got sick when they got home, that's really typical of norovirus."
The highly contagious virus kept some delegates isolated in their hotel rooms for days before they could check out.
Flying home while ill put others at risk, so health officials recommended a voluntary isolation.
Hotel management provided complimentary rooms for the additional nights, and airlines waived cancellation fees once the extent of the outbreak became apparent.
The majority of people were sick before leaving the city, but many reported symptoms after returning home.
"The count is quite accurate and I expect more," said Andy Veilleux, a sports editor at the Muse student newspaper in St. John's, N.L.
He attended the conference, which started on
Jan. 11, and has been tracking the numbers since about an hour after learning the illnesses were believed to be a norovirus. He is still waiting for counts from about seven newsrooms.
December is the unofficial kickoff to norovirus season, with an increased number of outbreaks lasting until about March. The B.C. Centre for Disease Control recorded 22 outbreaks of gastrointestinal illnesses in December 2011. Eleven of those outbreaks were identified as norovirus.
Outbreaks were recorded in 13 long-term care facilities, two daycare/schools, three hospitals and two non-specified locations.
The B.C. CDC did not have data available for the number of people infected in each of the outbreaks, but Fyfe said the spread was higher than typically seen.
Health officials have concluded their investigation at Harbour Towers and determined there are no remaining traces of the virus at the hotel.
Management increased cleaning and switched to a bleach product to wipe down surfaces, including counters, elevators, hand railings and door handles every 15 minutes, management said.
"We will continue to clean with bleach solution to make sure nothing is lingering," said general manager Ian Jones. "We don't have to, but we want to make sure we're diligent and don't allow any risks."
dspalding@timescolonist.com
We thought you might also be interested in..