Police wrap up airport crash investigation
Jan 21 2012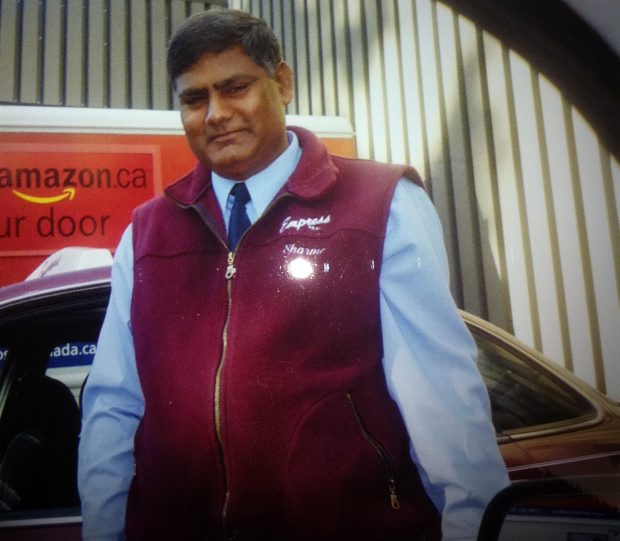 Airport crash victim Ramesh Sharma.
Photograph by:
Handout, timescolonist.com
Sidney-North Saanich RCMP have completed their investigation into a car crash in which an 81-year-old woman plowed into a group of cabbies at Victoria International Airport.
Ramesh Sharma, 57, a married father of three, was killed and seven others were injured
"This was an extensive investigation that included a very large scene and a large amount of physical and witness evidence," said Cpl. Chris Swain. "A complete and thorough report has now been submitted to Crown Counsel who will now make a determination if any charges are warranted."
Witnesses say a white sedan with veteran licence plates sped through the airport's short-term parking lot, over curbs, across the terminal's access road, and onto a raised berm where the airborne vehicle hit and scattered the cab drivers.
The vehicle barrelled through a luggage cart stand and finally stopped when it ran into a security building, witnesses said.
Documents filed for a civil lawsuit identify the driver as Shirley Murray Zerbin, of Sidney.
Neil MacKenzie, criminal justice branch spokesman, said in an earlier interview it is not unusual for police, when investigating a motor vehicle crash of this magnitude, "to take considerable time" before a report is given to Crown Counsel.
On Friday, MacKenzie could not provide a timeline on any decision regarding charges over the incident on July 29 last year. "There is a significant amount of material to review," he said.
Sharma's family is still traumatized, said Sushil Hira, co-owner for Yellow Cab for whom all the cabbies involved in the incident worked. "I don't think they will ever forget. And the other drivers aren't back to work. They are really hurt."
The driver of the vehicle was also injured.
Three witnesses to the crash and its aftermath claim to be suffering post-traumatic stress disorder and have joined the six cab drivers who were injured in a multi-party civil lawsuit.
Lawyer Chris Considine said he filed legal proceedings for the multi-party civil suit in B.C. Supreme Court. The stated defendants in court documents are driver Shirley Murray Zerbin and the Victoria Airport Authority.
The claimants represented by Considine are Happy Mann, Santoch Sahota, Joginder Makhni, Baljinderpal Sandhu, Manjit Padda, Surinder Leel, Kuljit Nagra, Harvhajan Bhatti and Chaman Hira.
The Ramesh family has also retained a lawyer, Michael Pohorecky, of MacIsaac & Company, to seek compensation under the Family Compensation Act for what happened.
Ramesh was the family's main wage earner. He supported son Sanjeev, in his fourth year of an economics degree at the University of Victoria, and Sabina, in high school. Before her husband's death, Ramesh's widow, Charan, 52, worked as a housekeeper at the Sandman Hotel. She has not worked since.
Under B.C. legislation, the family can claim losses only for a deceased person's financial dependents.
ceharnett@timescolonist.com
— with file from Katie DeRosa
We thought you might also be interested in..