Wind warning replaces freezing rain warning for Vancouver Island
Jan 21 2012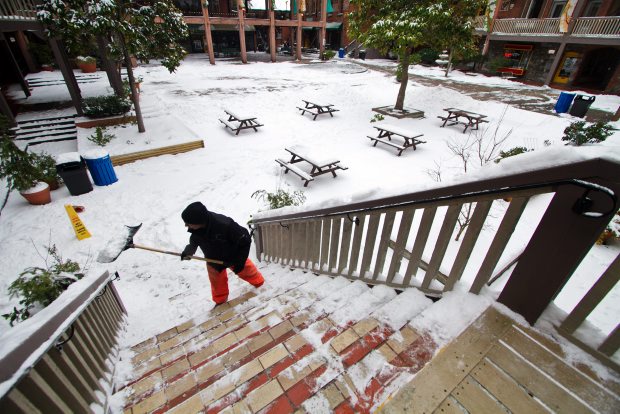 Rick Bailey shovels snow from stairways Thursday in Market Square in Victoria.
Photograph by:
Darren Stone, timescolonist.com
An Environment Canada wind warning has replaced a freezing rain warning for Vancouver Island.
The wind warning includes Victoria, Tofino, Nanaimo, Campbell River and Port Hardy.
Freezing rains hit parts of B.C. today but never materialized in downtown Victoria.
Temperatures hovered around the freezing mark at Victoria's Hartland station and at about 2 C at the city's Inner Harbour this afternoon.
Environment Canada continues to predict rain with winds becoming southeast whipping up to 50 to 70 km/h this afternoon.
Tonight that southeast wind could increase to 80 km/h. The temperature is forecast to stay steady near 5 C.
Forecasted freezing rain hit Nanaimo early this morning forcing the closures of all schools in the Cowichan Valley School District 79.
December was unusually warm and dry and possibly lulled people into thinking the fall-like temperatures would remain, said Matt MacDonald, meteorologist for Environment Canada.
"I think, very simply, winter has arrived, and we were just lucky to get through December as we did," MacDonald said.
Meteorologist Dave Jones said warmer temperatures, with a high of 7 C, will be here for the weekend. It is impossible to say whether there will be more snowstorms in January, he said.
"It's winter. It happens," Jones said. "We don't see it in the next seven to 10 days, but that's about all we can tell you."
ceharnett@timescolonist.com
We thought you might also be interested in..