A celebration as Jeneece Place opens
Jan 22 2012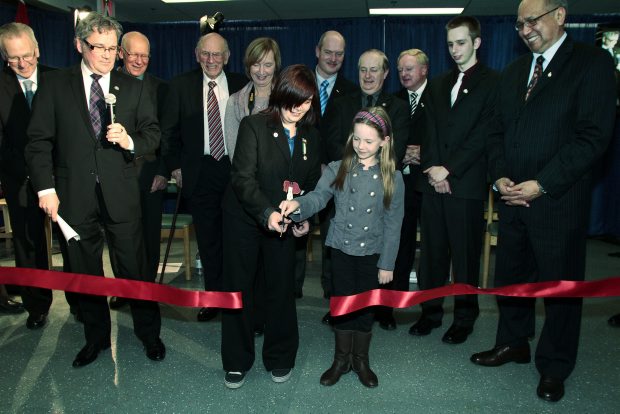 Jeneece Edroff and Abigail McCorquodale are watched by family, friends and dignitaries as they cut the ribbon to open Jeneece Place.
Photograph by:
Lyle Stafford, timescolonist.com
It was the ultimate 18th birthday present, the official opening of Jeneece Place and the practical realization of a dream Jeneece Edroff has had since she was a youngster.
About 300 people came out Saturday for the opening of the 10-bedroom, 975-square-metre home that will provide a home away from home for families with sick children. It is named after the young woman whose fundraising started 11 years ago, when she began collecting pennies to help sick children.
Edroff, who turned 18 on Friday, had another birthday cake at the opening, as well as hundreds of cupcakes for her guests. Dignitaries and community leaders spoke, congratulating Edroff for the years of work she has put in, raising money and profile for the project she holds dear.
She took it all in stride. Edroff has been pitching her idea to CEOs for years, and has had her photo taken so often that she knew not to blow out the candle on her cake until the photographers had all gotten their shots.
"I've learned that every penny counts and that the smallest person can make a difference," she told the crowd. "Thank you for believing in my dream."
Asked what she was thinking as she cut the ribbon to officially open the house a stone's throw from Victoria General Hospital, Edroff said, "I just want it open."
Edroff knows firsthand the difficulties and stress added for family when they not only have to worry about a sick child, but also where they'll sleep at night. She had neurofibromatosis, a genetic disorder that causes painful tumours on nerve pathways, diagnosed at the age of three.
Edroff, her mother, Angie, father, Dennis, and older brother, Nick, spent months in Vancouver as she underwent more than a dozen operations and numerous chemotherapy sessions.
The family was able to stay at Ronald McDonald House for many of those trips, but Edroff realized that the type of facility
wasn't available in Victoria.
She set out to change that. First, she collected pennies and became known as the "penny girl." The first year, she collected $164 and donated that to Variety — The Children's Charity. Eight years later, the penny drive generated $1.5 million for Variety.
That prompted numerous companies and organizations to match her donations, culminating in the $5.5-million Jeneece Place.
The Norgaard Foundation was one of the groups that donated $1 million to the fund. It only took a few minutes for the board to make the decision after her pitch, said chairman Tom Pringle.
The company was started by Kaare Norgaard, the late businessman and philanthropist.
"Kaare would have been all over this," Pringle recalled the board saying after listening to Edroff.
The first family will be in the house on Monday. It is beside Victoria General so that parents can easily have some respite while caring for a sick child, and the child can know his or her family is near.
About 600 families a year are expected to stay in the house. One of those will be the McCorquodales, from Port Hardy. Their daughter, Abigail, joined Edroff in the ribbon-cutting. Now seven, Abigail had esophagael atresia diagnosed before she was born, meaning that she was born without a fully formed esophagus.
The first four months of her life were in VGH's neonatal intensive care unit, with her parents often sleeping in the chair by her bed.
"There are no facilities to accomodate families close to the hospital, so many sleep on cots and in chairs at the hospital while supporting their child who is undergoing treatment," said Abigail's mother, Brenda. "Jeneece Place will be a great help to all."
Each room has two double beds and can accommodate two parents and two children.
All rooms have their own bathrooms, television sets and telephone. A large common kitchen has industrial-sized appliances — two of everything — and there is an arts and crafts room, a games room and a media room. Although Edroff has the poise to talk to thousands of people, she still gets excited about more kid-like things, particularly the bright purple media room with a large-screen TV. Throughout the house are the bright colours that she suggested.
Edroff said her work is not done.
She has plans for another project, but she has yet to say what it is.
kwestad@timescolonist.com
We thought you might also be interested in..