Social media role in tracking virus may become a model for future
Jan 22 2012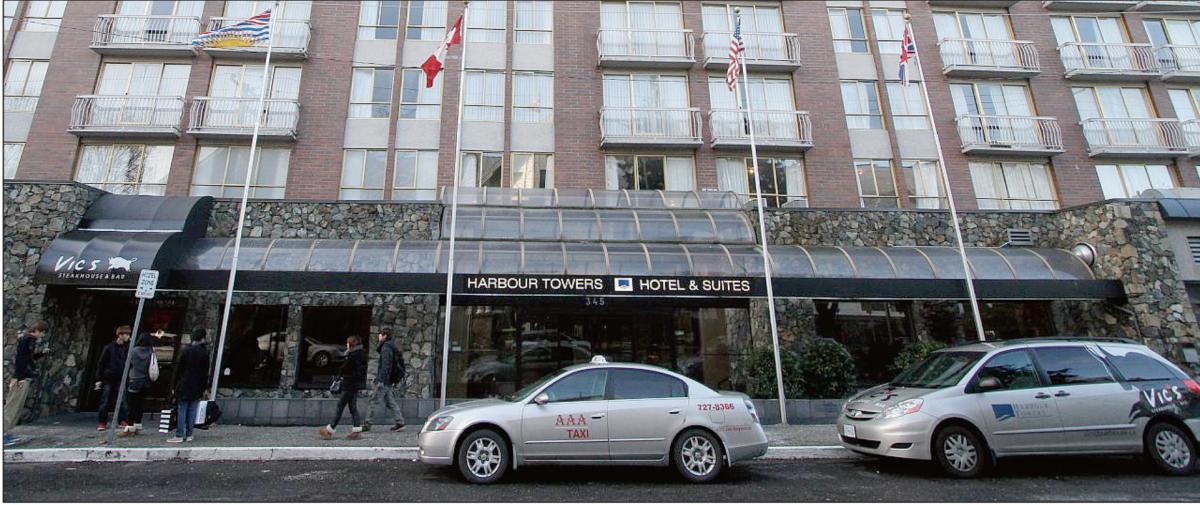 The delegates had been staying at the Harbour Towers Hotel and Suites in Victoria.
Photograph by:
Adrian Lam, Times Colonist, Times Colonist
Michelle Ferguson tried to avoid it, but the rapid onslaught of nausea took its toll on her body when she suddenly vomited in the back seat of a school bus last weekend.
She and her fellow delegates, attending a journalism conference in downtown Victoria, were on their way to the Vertigo nightclub for the final gala when dozens of formally dressed students started vomiting on the buses, in their hotel and at the club.
Almost instantly, messages on Twitter told the stories of people suffering from extreme stomach pain, vomiting and diarrhea.
Staff at Canadian University Press, who organize the conference every year, contacted health officials as the numbers increased. Within minutes, delegates were asked to return to the Harbour Towers Hotel and Suites.
The well-documented outbreak is considered a successful example of the effectiveness of communicating through social media. The conference's Twitter hashtag, #nash74, led news agencies to the story, became a slick crisis-control tool and has inspired health officials to consider using similar methods to monitor outbreaks.
"It would be fascinating to learn how to use social media to control and manage outbreaks like they did," said Dr. Murray Fyfe, chief medical health officer for the Vancouver Island Health Authority. "I'm sure some were able to limit their exposure because of it."
Ferguson, the production manager for the Fulcrum student newspaper at the University of Ottawa, fell ill about an hour before getting on the bus, but felt that she was healthy enough to attend the final gala.
The Fulcrum's editor-in-chief, Mercedes Mueller, held Ferguson's hair while another friend ran to get a plastic bag at the front of the bus. Other passengers opened windows to clear the pungent odour wafting through the air.
Passengers assumed that their fellow delegates had consumed too much alcohol, until they arrived at the club. Some ran straight from the bus to the washrooms, others could only make it to the bushes outside. A few people made a mess of the dance floor.
Messages about the widespread vomiting were sent out on #nash74. CUP staff saw the numbers climbing and shut down the gala.
People then suspected food poisoning because most of the 370 delegates had eaten dinner together at the hotel. That theory was quickly eliminated when health officials said the symptoms suggested a norovirus-like outbreak.
The latest count estimates that approximately 170 people came down with what is believed to have been a norovirus.
So far, 151 of the 370 delegates have reported becoming sick, with four papers still to report, according to Andy Veilleux, sports editor for the Muse student newspaper in St. John's, N.L.
Eighteen hotel staff also contracted the virus, as did two conference presenters.
Infected delegates were isolated to their hotel rooms for days as university press staff regularly put out information from health officials on #nash74.
"That first night, when I found out, I stayed up late watching Twitter like it was a TV show or something," said Ashleigh Mattern, a freelance writer and board member for the Sheaf student newspaper at the University of Saskatchewan.
"I woke up in the middle of the night to get updates and find out what was going on."
She said there were a few delegates who felt out of the loop because they did not have access to the feed.
CUP staff went door-to-door as well, but nothing worked more efficiently than Twitter, according to students.
"I feel a lot more people would have gotten sick without Twitter," Mattern said. "This whole thing would have played out a lot differently."
Methods for tracking and managing outbreaks could change because of the role Twitter played in this incident.
Fyfe and his staff have analyzed the Twitter feed from the conference and could follow how the outbreak spread.
"A traditional investigation would have trouble getting those details," he said.
"We're interested in partnering with people who have expertise in social media to use it as a tool to investigate outbreaks and as a communication tool to control outbreaks."
The highly contagious norovirus moves from persontoperson quite easily once established in a localized environment, health officials say.
Thorough cleaning of surfaces, where the virus can live for hours, and handwashing are the best ways to prevent its spread.
Fyfe said there was very little delegates at the Harbour Towers could have done, considering the large numbers in a confined space, he said.
Reports of the first few illnesses came about 5 p.m. on Jan. 14, just before the banquet. A few infected people eating with hundreds in the same room could have created an environment for the virus to spread easily, Fyfe said.
Several more people reported symptoms during the keynote speech by journalist Chris Jones, which ended just before 9 p.m.
Then came the bus rides to the nightclub.
The virus can spread in aerosol droplets when people vomit, making the shuttle buses another ideal environment for norovirus to spread.
With the infection rate among delegates at nearly 41 per cent, the outbreak is larger than most, according to VIHA statistics.
Vancouver Island long-term health-care facilities recorded 12 outbreaks last year with an average of 27 per cent of residents becoming sick, making the journalism conference outbreak "really significant," Fyfe said.
Fear of norovirus travelling home with delegates made for an awkward homecoming for some.
Students at Thompson Rivers University in Kamloops were not allowed to return to class for 48 hours after their last contact with an infected person.
"Should you [go] to campus and have the sudden onset of symptoms, you are to leave right away and return home," wrote Duane Seibel, manager of student and judicial affairs at TRU. "We would also appreciate knowing immediately which washroom you used in order to close it and clean according to [health authority] guidelines."
Neighbours of some of the Kamloops delegates also feared that they could catch the virus.
Residents in the same condo as Cavelle Layes were asking if they could catch it just by being near her.
"People think they can catch it by looking through the window," she said. "We just couldn't believe how people reacted to it."
One professor scolded students for not staying at the hotel longer to ensure they were virus-free, even though health officials had approved their departure because they had not shown symptoms.
"He continued to say how irresponsible we were, how we needed to stay far away from the school and that we could be the reason why some could get seriously ill," Layes said.
Lauren Gagatek was also in the Kamloops delegation.
"When we first got back, we were like lepers," she said.
Several students reported having symptoms on the way home or after they arrived home, but no futher spread has been identified.
Fyfe urged the delegates to stay isolated as long as they could. "If they're not careful, it can be spread to their communties back home," he said. dspalding@timescolonist.com
We thought you might also be interested in..