Power outages reported accross Greater Victoria
Jan 22 2012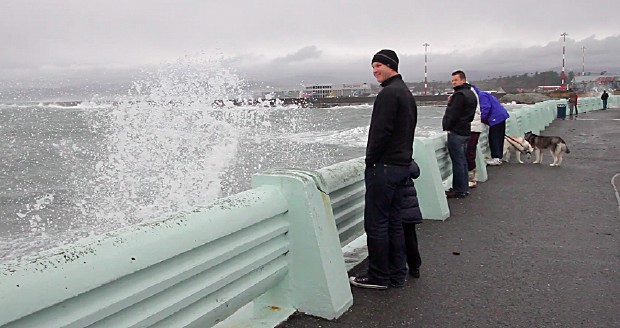 People watch the waves at Dallas Road on Sunday. High winds downed trees, caused power outages and cancelled ferries around Greater Victoria.
Photograph by:
Adrian Lam, timescolonist.com
We'd love to see your weather photos send them to web@timescolonist.com
Victoria residents are being pummeled by high winds this morning with trees down, power outages to thousands and ferry cancellations for most Vancouver Island routes.
Environment Canada has issued wind warnings for Greater Victoria, which is seeing southeast blasts reaching up to 110 km/h.
Harbour Air has cancelled all its flights due to weather and will likely not fly for the rest of the day, staff said. So far, just two flights out of Victoria Airport had been cancelled by 11:30 a.m. and others were delayed. Check the airport website at victoriaairport.com for current departure and arrival information.
B.C. Ferries has also cancelled most of its runs to and from Vancouver Island, including the three main routes to Nanaimo and Victoria.
The Malahat is closed in Goldstream Parck because of a large tree that has fallen.
"We will be watching the weather throughout the day, but at this point we don't know when we will resume service," said spokeswoman Deborah Marshall.
B.C. Hydro has reported about 14,000 customers are experiencing power outages. Up to 12,000 had no hydro in southern Vancouver Island with about 7,500 in Saanich and Central Saanich.
Parts of North Saanich and Sidney lost power at 6:30 Sunday morning. The outage is affecting 1500 homes and it's not expected to be restored before 2 p.m. The outage is blamed on a fire.
Other outages reported in Oak Bay and parts of Victoria are affecting approximately 700 homes. Power in these areas is expected to be restored around noon. It's believed high winds are to blame for some of the outages.
Environment Canada reports an intense low pressure center is generating strong winds gusting 100 km/h over south coast regions and up to 110 km/h over west Vancouver Island and exposed coastal sections of the central and northern parts of Vancouver Island.
dspalding@timescolonist.com
We thought you might also be interested in..