Six stuck 90 minutes in malfunctioning elevator in seniors' home
Jan 23 2012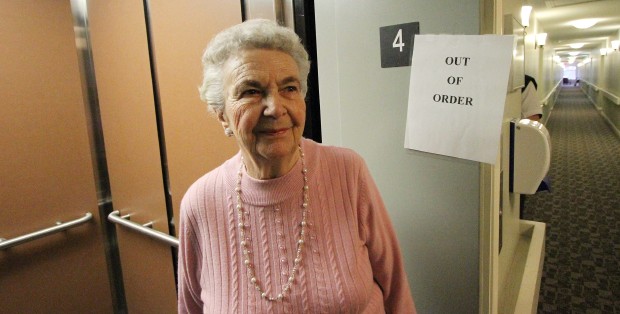 Mae Boyd outside the elevator at Langford's Alexander Mackie independent living residence, where she and five others were trapped for an hour and a half on Sunday, Jan. 22, 2012.
Photograph by:
Adrian Lam, timescolonist.com
Six people spent an hour-and-a-half locked inside a malfunctioning elevator at a seniors-care facility in Langford Sunday.
Rev. Phillip Washeim was getting ready to hold his Sunday service when he got a call from his wife. That's when he found out she and their two children were trapped inside one of the three elevators at Alexander Mackie, an independent living residence on Station Avenue.
Washeim was to deliver his first sermon at the residence. The Redeemer Lutheran Church on nearby Jenkins Avenue, where he normally preaches, was recently shut down as crews construct a new building.
Two other church members were in the elevator at the time, along with 88-year-old resident Mae Boyd.
Boyd had come down to take out the trash and stopped for a coffee in the dining hall before getting on the elevator. She was returning to her fourth-floor suite.
Or so she thought.
She and the others made it only to the third floor, where the elevator got stuck with the doors shut.
The elevator has malfunctioned several times in the three years they have been there, said Percy Boyd, Mae's husband.
Spending more than an hour in an elevator was not comfortable for her.
"I knew it was going to take time, but I didn't think it would take as long as it did," Mae Boyd said. "Other than that, I'll survive. But it's an experience I don't want to have happen again."
Residence staff member Deb MacLeod went directly to the elevator to post an out-of-order sign and talk to the people inside when she found out about the incident around 10 a.m.
"I told them I had called [the elevator maintenance company] and they'll be here as soon as possible," MacLeod said.
She went back down to the front desk and called ThyssenKrupp Elevator Services again to advise them this was an emergency.
Meanwhile, Washeim's wife managed to find humour in the incident — for a while anyway.
"Well, it was funny for the first 15 minutes. But afterwards, she was getting a little unhappy," he said.
After about 40 minutes, MacLeod called ThyssenKrupp again.
"They said they had the wrong address," she said.
After more than an hour, she and her staff decided to call the fire department.
"We were told the resident [Boyd] was getting tired," MacLeod said.
Fortunately, Washeim's wife had brought a small plastic stool, which Boyd was able to sit on for the last bit of their stay in the elevator.
"There was no harm," Boyd said. "I'll survive."
A few minutes after firefighters arrived, an elevator maintenance worker arrived to free the trapped passengers.
dspalding@timescolonist.com
We thought you might also be interested in..