Kitchen fire re-ignites controversy over region's illegal secondary suites
Jan 24 2012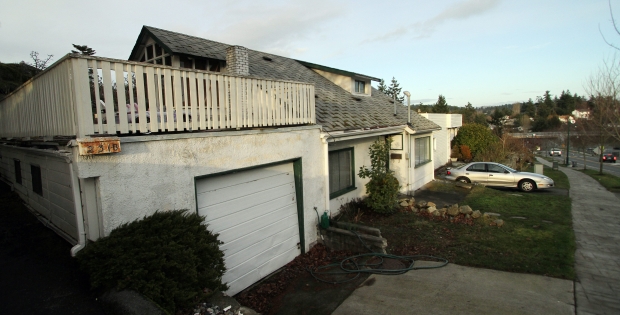 An overview of the building which included an illegal suite on Helmcken Road from which a mother and her young daughter escaoed a grease fire on Jan. 22,
Photograph by:
Adrian Lam, timescolonist.com
View Royal fire Chief Paul Hurst says a Sunday evening house fire highlights the dangers of living in illegal secondary suites that do not meet safety standards and conform to building codes.
A mother and her young daughter were lucky to escape without injuries after a kitchen fire quickly lit up their second-floor suite at 231 Helmcken Rd. around 6:30 p.m.
The blaze started when a pot of grease caught fire and the mother, who asked not to be identified, moved the pot to the sink and added water.
"You'd be shocked at the outcome of what a cup of water does in a cup of grease," said Hurst, who has organized a demonstration for news media on Thursday to illustrate the result of this dangerous mixture.
On Monday, he also talked about the dangers of illegal suites that lack proper safety standards.
The unit where the fire happened is a renovated attic with no working smoke alarm and its small windows would be difficult to escape through, Hurst said.
"You see these things all over the place," he said. "You're going to an address, knock on the door, and a person says they didn't call you. We don't know they exist if they're not registered."
When firefighters arrived on Sunday, the fire was raging in the upstairs unit.
Legal secondary suites would require safety standards, including inter-connected smoke alarms that give people anywhere in the home more time to escape during a fire, said Hurst.
The mother and her daughter escaped the unit, called the fire department and pounded on their landlord's door in the suite on the main floor.
The landlord did not answer calls from the Times Colonist on Monday.
Safety issues in secondary suites were one of the reasons View Royal council created a bylaw in 2005 regulating standards for such suites.
Building inspectors have been to the scene, Hurst said, but it is unclear what they will recommend with respect to the illegal suite.
View Royal Mayor Graham Hill said, "This investigation is ongoing and I don't want to be an alarmist until we have all the information. But it is a concern where people's lives could be at risk."
dspalding@timescolonist.com
We thought you might also be interested in..