Sub manoeuvred into place in Esquimalt Harbour with an eye toward repairs
Jan 24 2012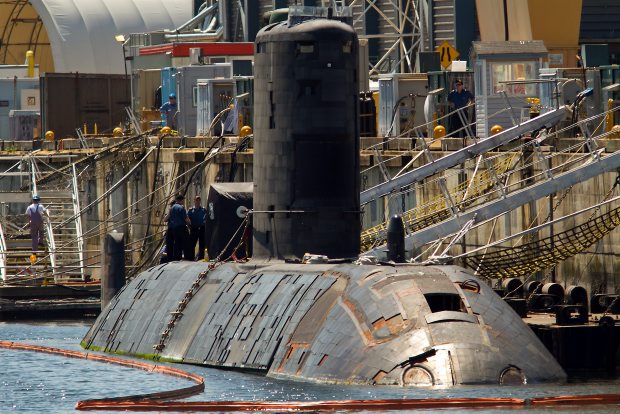 Navy submarine HMCS Corner Brook is tied up in Esquimalt Harbour on Monday June 6, 2011.
Photograph by:
Darren Stone, timescolonist.com
Work is proceeding on the submarine HMCS Corner Brook after some highly visible manoeuvring last week to get it positioned for repair.
The vessel, one of the Royal Canadian Navy's four Victoria-class submarines, was damaged last June when it hit bottom during a training session off Nootka Sound. The results of a naval inquiry, released last month, said the incident was caused by human error. Lack of training and experience were cited as factors.
Capt. Luc Cassivi, deputy commander of Canadian Fleet Pacific, said moving the submarine was a necessary step to allow an overview of engineering requirements and cost estimates related to its repair.
"We needed to get her high and dry to be able to make all of those assessments."
That meant a tug-assisted trip from Esquimalt Harbour to Ogden Point so that Corner Brook could be set on the Seaspan Careen, a floating drydock, under the best possible conditions, Cassivi said.
"We brought the submarine over with our tugs and we used the tide window, with sufficient depth of water and height of tide."
Corner Brook had to be brought back once it was in placed on the careen, so the process unfolded over two days, Cassivi said.
"She's now alongside in Esquimalt Harbour."
The vessel is being prepared for a round of repair work to begin in late January or early February, Cassivi said.
"It's actually going to be lifted up on the jetty itself. She'll be positioned fairly close to the current submarine-maintenance facility."
He said another Victoria-class submarine, Chicoutimi, is already at the facility so Corner Brook will remain outside for now.
Chicoutimi is expected to be operational next year. It has not been to sea since being damaged by a fire that killed an officer during its delivery voyage from Britain in 2004.
The four submarines with Victoria-class designations - the other two are Victoria and Windsor - were bought used from Britain in 1998. They have been controversial due to a series of technical problems.
Windsor is the only one of the submarines located on the East Coast. It is undergoing repairs and could be back at sea this year.
jwbell@timescolonist.com
We thought you might also be interested in..